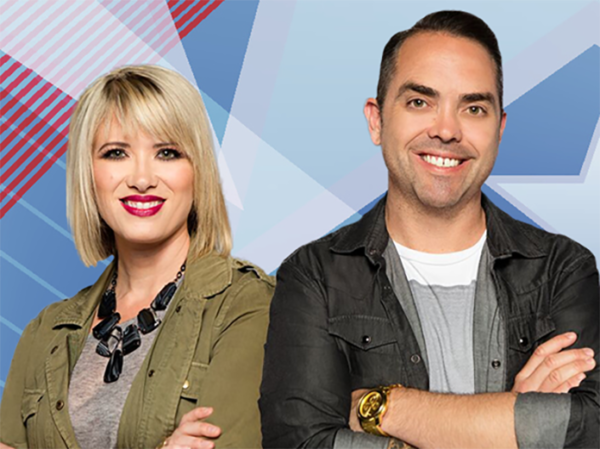 In a rare move in Canadian radio, Corus has replaced its morning drive show at JUMP! 106.9 (CKQB-FM) Ottawa with syndicated American programming.
Brooke & Jubal In The Morning, hosted by Brooke Fox and Jubal Flagg (pictured above), hit the station's airwaves this morning (Sept. 4). Based out of MOViN 92.5 (KQMV-FM) Seattle, the duo have been together since 2011, with the show launching into national syndication in 2015.
Corus confirmed to Broadcast Dialogue that the previous JUMP! morning show, hosted by Jesse Reynolds and Jenna Mosher, aired its final broadcast on Aug. 28, and the duo are no longer with the company. Reynolds had been with the morning show since 2015, while Mosher started on middays with the station in 2014 and had been part of the morning team since March 2016.
Social media backlash to the station's move was swift with listeners tagging their posts on the station's Facebook page with the hashtags #bringbackjesseandjenna, #boycottjump and #goodbyejump.
"I will not be listening to your new morning show coming from the States…but instead supporting our local shows. And I hope everyone else does too," wrote one listener.