After break-in attempts & threat, Swan River station's staff patrol 'with at least 1 member who is licensed to carry firearms'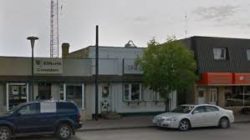 Radio station CJ104 in Swan River, Man. The station's owner says it has been the subject of several attempted break-ins and a threat to burn it down in recent weeks. (Google Earth)
Staff at a radio station in Swan River, Man., say they're taking matters into their own hands after dealing with several attempted break-ins and a threat they say police are not taking seriously.
But both the RCMP and the town's mayor say the actions proposed by the station are unacceptable.
In a social media post published Friday night, CJ104 said it had received an anonymous threat to burn the station down, which was preceded by a rash of break-ins and break-in attempts.
As a result, staff have been patrolling the area in the station's vehicles due to "the lack of police presence in Swan River," the post said.
A Statement on Domestic Terrorism
As many residents of Swan River are aware, last weekend CJ Radio received an anonymous threat. In the threat, it was indicated that we had one week to cease business operations in Swan River or our business would be burned to the ground.
Coupled with a rash of recent break ins, break in attempts and damage to our building, we have no choice but to consider the threat credible.
The Facebook post goes on to say that the station has made the decision "that any patrols or overnight occupancy efforts will include at least one member who is licensed to carry firearms."
"This is not a decision we take lightly," the post said.
"We assure you that any such efforts will be within the scope of the appropriate firearms laws."
The post also said that if anything happens that makes the station's staff feel their lives are in danger, "they have been instructed to use lethal means" to end the threat.
Staff frustrated and scared
Bill Gade, who runs the radio station, says his staff are frustrated and scared, and feel like the police aren't protecting them.
In one of the attempted break-ins, Gade said, someone cut the power and phone lines at the station.
READ MORE HERE  AT THE CBC NEWS WEBSITE