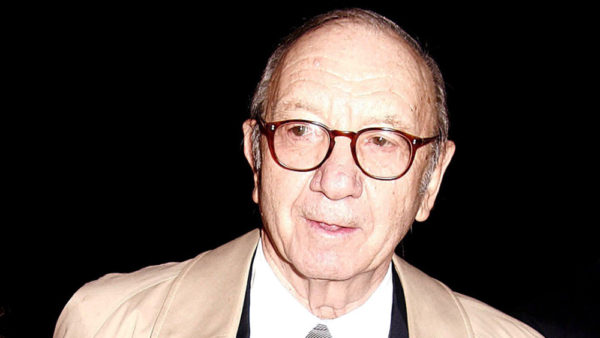 Neil Simon, one of the rare late-20th century playwrights who was a brand name for plays such as "The Odd Couple" and "Barefoot in the Park," died Sunday. He was 91.A statement from his reps said, "Neil Simon, the Pulitzer Prize-winning American playwright, died last night at New York-Presbyterian Hospital in New York City. The cause was complications from pneumonia."

"His wife, Elaine Joyce Simon, was at his bedside along with Mr. Simon's daughters, Ellen Simon and Nancy Simon."

Beginning in the 1960s, Simon could guarantee good Broadway advance sales, a rare feat for a writer. He had more than 30 plays mounted on Broadway, including four that ran simultaneously in 1966: "Sweet Charity," "The Star-Spangled Girl," "The Odd Couple" and "Barefoot in the Park."

He also wrote numerous screenplays, some of them originals, some adaptations of his stage work. But he was best known as a playwright, both for his long string of Gotham shows as well as countless productions by regional and amateur theater companies, which helped him become the most-performed playwright of his era.

At a time when the legitimate theater was in decline and devoted American playwrights an endangered species, Simon stood head and shoulders above the rest. His early comedic successes, such as "The Odd Couple" and "Barefoot in the Park," were both critically well received and financially successful, and even his naysayers, who accused him of being glib and formulaic, could not deny his craftsmanship and the sheer volume of his output.

.