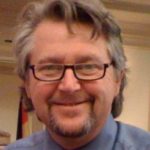 August 23, 2018
Welcome to JJ-365 Salutes. Over 2018, we pay tribute daily to one of "The Good Ones". After today, only 130 left! Today we are shining the light on Greg Simpson.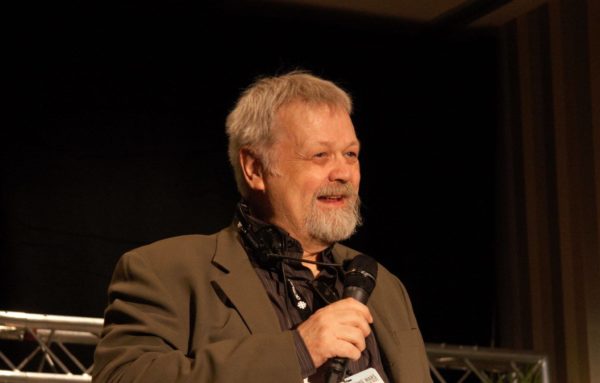 Greg was crying like a baby on this day back then. That's because he was a baby, being born on this day in 1948. He came out talking and has been vocal ever since. His first few words were "I love music and radio". Okay not true but could be!
We met at a conference way back when and over the years at those get together's we always got a kick out of jawing back and forth talking music, sharing bad jokes, and whipping up crazy tales. He was one of the true-blue Music Directors in the radio business, who had the ability to be one of the radio people, but also champion the music with his inherent passion.
When Greg was a little one he listened to the station his parents chose, which was CKDA Victoria, British Columbia. Until grade seven all he really knew about any other kind of music came courtesy of American Bandstand and the Ed Sullivan show. He didn't know that there were stations that targeted people of his age until he discovered CFUN in Vancouver and KJR in Seattle. He was hooked, not only on the music that was made for him, but also on radio that offered more than 'Man on the Street' interviews and Andy Stewart's 'The Scottish Soldier'.
At his high school he made friends with a guy one year younger, who shared his last name. What attracted him to this friendship, at first, was this guy's older brother Russ was a top DJ and one of the CKLG Good Guys, and Greg found himself already beginning his trip towards his goal. When this same fellow, Steve Simpson, ended up being a bass player in with some other friends, Greg started hanging with the band for rehearsals and at their local shows. Before long, the leader of the band allowed him to become their "manager" and he marks March 14th, 1965, as the day he officially entered the music business thanks to a ten-dollar commission from the band for a gig he booked in Duncan, BC. That, combined with a couple of years under his belt booking Teen Town dances in his hometown of Sidney on Vancouver Island definitely encouraged him to continue his path, but he says, first, he had to strongly consider his dual life as a patrol leader in the Scouting movement.
In 1967 he hitch-hiked to Montreal from Victoria to attend Expo in our Centennial year. By 1968 he was done high school, and not doing anything about it, and didn't have a job beyond milking cows and cleaning calf pens for a relative's farm. His parents, concerned that he was 19 and not gainfully employed, told him they had a job interview for him the following week. He thought that was cool until they told him where…he was to interview for a job as an apprentice mortician at the local funeral home. Stiff panic set in and, not for the first time, he told his parent's a lie that helped change his life. Steve Simpson was now living in London Ontario and working for a radio station run by his brother Russ. Previously Greg had no idea where London was on the map, other than generally, but made up his mind to go there. He told his parents that there was a job waiting for him in London, once again hitch hiked across the country, and showed up at Steve's door with no warning.
It didn't happen instantly, and he did spend four months in 1968 working his only full-time job that didn't involve radio or music in a printing shop on the UWO campus, but, by the spring of 1969 thanks to Steve he became an overnight board operator, rolling Dolly Holiday Show reels. He already knew all the workers at the station, CJOE, having socialized with them through his friendship with Steve, but this overnight work gave him a chance to hang with Program Director Ron Roberts every morning and to talk music. Here's how Greg's full time radio career started: "Soon enough, the Music Director, Murray Ayres took a vacation, and Ron asked me to fill in as Music Director for a couple of weeks during his absence. Sadly, for Murray, when his vacation ended so did his employment at the station…sorry dude."
He was just 20 and his first full time job in radio was reality. He was being paid $62.50 a week, and though it was tough paying his rent on time, his dream had come true. The first month he was on the job he got a call from reception saying there was a Bill Bannon of Capitol Records in the lobby to see him. He knew so little, he didn't say "send him back" but went to the lobby to meet him. After a little chit chat, Bill handed him a bag containing the album Abbey Road. There were two copies and he mentioned that to him. Bill said that one was for the station and the other was for him. The concept of free records had never entered his mind before that moment, and he spent the next few evenings visiting every friend that he knew who might have some doobies, to play it and to feel like he was now someone special (even though he was still working for $62.50 a week).
While he was at CJOE there always seemed to be movement at the upper level, with four managers coming and going during his time there. Besides Ron Roberts, who moved back to his hometown of Halifax and years of success there, their News Director, Bryan Thomas moved to Montreal, taking Herb (Luft) Marshall with him. Jeff Guy became the new PD and a guy named John Dickins who had been let go by CFPL came in to do the morning show. John, along with Jeff, started listening when Greg said this "beautiful music" thing had to go, and agreed that they could compete with rock powerhouse CHLO. They started programming top forty, with an eye towards incorporating tracks that pushed the envelope a bit, and, suddenly, the free records influx started to grow. At that time Greg started to learn a lot about the music business and how it worked through promo reps like Tom Williams, Scott Richards, Johnny Murphy, Joe Woodhouse, and many others, including a hipster named Liam Mullen from A&M. Liam thought Greg had something going for himself and offered him the opportunity to become his assistant in Toronto. After two years Greg left radio and moved to Toronto, and shortly after returned to London. He says he was too young for the move, actually thinking that the record reps who came to London and bought him lunch, would become his closest buddies in the big city. Obviously, their attentions were now focused on his replacement in London, the late Brent Marucci.
Greg felt lost and alone in Toronto, and after eight weeks he gave the late and great Gerry Lacoursiere his notice, and then he returned to London to begin his career in record retail, first for a store owned by John Dickins' wife, and then, for a few years, for Sam the Record Man. Their franchise owners got the nod to open the west for the Sam's chain, and, after taking a month to tour as road manager for Gary & Dave (Could You Ever Love Me Again) on their only national tour, Greg settled in Edmonton. One year later, after the worst winter he'd ever experienced, he returned to London, and worked a feature program for CHLO while managing another record store in the daytime.
In 1979, while working for Music World, he got a call from his buddy Brent, now Music Director for CFPL-FM, and old friend Ian Davies, saying that the station, which had just recently flipped to light rock, needed someone to create foreground programs. This was a requirement for FM stations at the time, and a trivia sponge like Greg seemed a good pick for the gig. Bill Brady hired him, and the next decade and a half were dominated by FM96. Brent left the station soon after Greg began there, and he was elevated to Music Librarian (the title was such because if they called him Music Director it would involve a pay raise which they weren't anxious to do until they felt confident that this rock thing was going to work out). Pleasantly, the team assembled by Barry Smith, began to make inroads in the market and it wasn't too long before they replaced their AM station as the most listened to radio station in the market. FM96, thanks to a major signal, became an important station not just for the listeners and the staff, but for the record labels as well. They were never going to match CFNY in Toronto for adventurous programming, nor would they ever be as rock and rollish as Q107, but their music mix was such that they had a market share at and around 25% of the market for many years. Greg's concept at the time was to program the songs that would become hits on AM Top Forty and play the hell out of them (only 18 repeats a week on any track were allowed by the CRTC at the time), so that by the time CKSL or CJBK got around to them, there was already a certain amount of fatigue attached to the track, and by that time FM96 had moved on to whatever they felt would become the next hot single.
To say that those were very good years would be an understatement he says. Besides the ratings success, Greg was fortunate enough, on two separate occasions, to be honoured with Music Director of the Year awards at the Record Conference (soon to be Canadian Music Week awards show) and on the personal side he and Judy had three daughters. Things couldn't be better but by 1993, he felt it was time to move on.
Greg's philosophy, all through his career, was to continue to build on the relationships he was making with the music industry, enhanced by his annual visits to Three Days in March/The Record Conference/CMW, and, when he left the station with a nice buyout that led him to do very little for a year, other than to manage artists and hang out, but it got to a point where he had to start earning again. One of his promo buddies, Lisa Zbitnew (future BMG/Sony President), encouraged him to start an independent record promotions company, and his first client that really mattered was hers, Kim Mitchell. He also began, in 1993, working for super entrepreneur and music man Neill Dixon at Canadian Music Week. The promotion company lasted fifteen years, until he felt radio changed to a point where people who were like him weren't, in most cases, employed as Music Director's anymore and he set record promotion aside.
Greg says: "I continue to work for CMW where my role and responsibilities have changed over the years but I'm not ready to leave yet, nor, apparently, are they ready to cut me loose."
Greg turns 70 years old today and one of the greatest joys in his life is that he says he is still in demand: "Retirement is not an option for me. Rent and groceries are covered by the government cheques now, but if I wish to continue my cable package, and buying British music magazines, I have to stay on the job. Neill's move into producing cannabis conferences certainly helps as I do much the same thing with those as I continue to do for CMW. Retirement will only happen when my health demands it, but even then, I expect I will continue to maintain all the great relationships I've had for years. My friend Steve Simpson, who I mentioned before, just recently retired as B.C. Commissioner for the CRTC, and has promised to teach me fly fishing in the near future, because he knows it would be hopeless to teach me how to golf. I maintain contact, weekly, with dozens of the friends I've made in my 54 years in the business, and, even when the reason to maintain that network is no longer essential to my work life, I expect I will continue to do so."
Greg sums up: "Did my teenaged dreams come true? I'd have to say that, with the exception of those involving Annette Funicello, they have, and I am so pleased, at my advanced age, to continue to live that dream as my FB profile says, I've devoted my life to music, and though I've made a living, I've never become wealthy. And though a few hundred thousand in the bank would be a good thing, it doesn't really matter."
Greg is a real character and it is likely the mold got broken with this cat. I never worked directly with him in the radio business, but having been a participant in one way or another at Canadian Music Conferences virtually every year for decades, we always partnered up. He is keen for ideas and likes to pick brains. He works his butt off at those conferences creating and organizing the dozens of yearly relevant interactive sessions, populating the panels and doing most of (if not all) the writing around them. I used to like to say when people asked me where Greg was "that guy over there who looks like Kenny Rogers" to which Greg would hurl back my way something like "Bon Voyage" but using two vastly different words. He's a riot, he has and continues to make a difference in the business, as a champion for both the music and radio industries. Happy Birthday Kenny…er…um….Greg and congrats on a great career pal.
Thank you, Greg Simpson for being one of the "The Good Ones". Feel free to like and share Greg's positive story. Who is the subject of tomorrow's JJ-365 Salutes? As they say, stay tuned.
Jim JJ Johnston is the CEO, President and Chief Talent/Content Coach for JJIMS INC. and works with talent in many different industries worldwide.