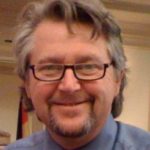 August 19, 2018
Welcome to JJ-365 Salutes. Over 2018, we pay tribute daily to one of "The Good Ones". Today we are shining the light on Boyd Leader.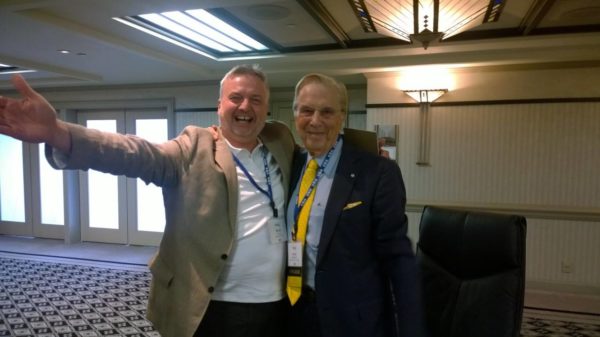 Boyd and I worked in Moffat Communications and CORUS off and on. All of us would congregate at the infamous Moffat Moose Jaw ball tournaments and that's where we all got to know each other. If you want to build trust in an organization, it's key to get people together outside of the normal work day. This is where people learn what they have in common, which gives them much more to talk about. Commonality is a key pillar of trust and often the grease that helps to make the social engines run.
Boyd and I never worked directly but I would see him each time on my cross-country Moffatt Radio tours. He is respected as a talented broadcaster and Leader in our industry and well known for being a very funny and fun lad. Good times around Boyd for sure.
Boyd's career started early at 16, when he and Glen Kirby, who is the current publisher of Southwest Post in Manitoba, began writing for the local newspaper, the Souris Plaindealer. Glen and Boyd produced and shot two documentary "films" for the Manitoba government and began broadcasting reports on CKLQ in Brandon over the next two years. Boyd says Glen is the reason he even thought he could do this: "I'm his biggest fan and would do anything for him."
When he graduated high school, he was offered a fulltime job at CKLQ but turned it down to take Radio Arts at Lethbridge College. Jerry Agar, yes, the cranky guy from CFRB he says with a twinkle in his eye, was his Program Director at CKLQ. He remembers that conversation well;
"Jerry: So, let me get this straight, you're turning down a full-time job in radio, so you can go to college and take radio in hopes that you could get a full-time job in radio?
Boyd: Yes.
Jerry: Okay then."
Boyd came back to work for Jerry in the summer of 1979: "I owe a lot to him. He took me under his wing and there will always be a place on my couch for him. I still am also very much in touch with Steve Antaya and Cam Clark at CKLQ, and they are like family to me."
Boyd gives a shout out to the late Ian Mandin who was the head instructor for the Radio Arts Program in Lethbridge and was a tremendous influence on him: "I miss him. The radio lights went a little dimmer in Canada when he passed away. College was a special time, I'm glad I went against Agar's advice that one time. There I met Clay St. Thomas, Carol Thomson and Larry Barris who are all life long friends and colleagues."
It was when he was working at CJOC in Lethbridge when he encountered Marty Forbes: "I know he'll correct me if I'm wrong, but I believe he had a pony tail at the time; doesn't matter, it works well for the story." Marty was PD of LA-FM across the hall and through many conversations he thought Boyd would be a great fit with Moffat and their training station, CHAB in Moose Jaw, Saskatchewan. Marty hooked him up with then Program Director Pat Bohn and Pat hired him. He never really worked with Pat, as he was off to Hamilton almost as soon as Boyd got there. He is grateful for the chats still and would offer both a place on his couch, but in Marty's case he says he's not sure he'd accept because he doesn't have a lake view.
While at CHAB Boyd worked on-air and was Promotions Director. Bryan Hagel (Sales Manager at Mix 107.9 / FortSaskOnline.com in Fort Mac these days) recalls this story: "In 1982, Boyd was the captain of the CHAB Fun Bus that made historic appearances in Sask including the Lancer Chokeferry Festival Parade in the CHAB Fun Bus loaded to the curtained windows with Hagel's munchies and proceeded to drive the parade route – twice. Through the grasshopper gut stained windshield, Boyd expertly navigated the route, with nary a Garmin to guide him. Fallen farmers, hay bales and freshly baked road apples were no match for Boyd."
The fellow that replaced Pat Bohn at CHAB, Boyd described as a 25-year-old hot shot from 630 CHED with a cool silver '73 Celica GT, by the name of Brad Phillips. Boyd recalls: "As a young Program Director, Brad made a few mistakes of course, the biggest was telling me all his deep secrets after a couple of pints at Hopkins Bar. I have enough for a book! Seriously, Brad was an epiphany to my career. Many of the values and techniques that I still have today I owe to Brad. He continues to be a friend and a mentor and most certainly is welcome on my couch. Hell, I might even let him have the TV remote."
Over the next number of years it was several stations, a few cities and a bevy of characters. He likes to point out that he owes a lot to people like Bob Lang, Jerry Bellikka, John Voss, Phil Parks, Audie Lynds and many more for keeping him sane along the way: "None of whom I'd allow on my couch-
?."
He held on-air and Program Director positions at CKGL Swift Current, CKYG in Red Deer, CHEC in Lethbridge, and CISN-FM, JOE-FM, CHED and POWER-FM in Edmonton where he was also the on-field announcer for the CFL's Edmonton Oilers. In Calgary, he worked at AM-106, MUSIC 96 FM, and POWER FM and also became the field accouncer for the Calgary Stampeders football team.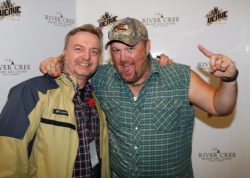 Not to forget CKRC in Winnipeg where the late and great Arnie Chelsie gave him the name Rhubarb Jones. 365'er Boyd Kozak was the reason he had to change his name he says: "I remember the meeting with Arnie and Doug Anderson at CKRC.
Arnie: We can't have two Boyds on the air and Kozie has been here a thousand years.
Boyd: Okay, I get that.
Arnie: How about, "Rhubarb Jones." (His face was like a child presenting his parents with a gift).
Boyd: That's the dumbest name I've ever heard!
Arnie: (Kind of disappointed, now a bit mad) It'll work, and I think you should try it.
He was right, God rest his soul. It was the moment in my life that I got over the hump and made the transition from being an announcer to regular guy on the radio. Funny, when I changed my name the real Boyd suddenly showed up on the air."
Boyd talks about his very close friend Ken Kilcullen: "I love this man. He's a bastard, I know, but he's a special bastard. When I was doing mornings at 1090 CHEC he was on mornings at 1570 CKTA. He'd routinely steal my bits, usually making them better – he even won the CCMA On Air Personality of the Year once, using my bits. Bastard. He's my oldest son's Godfather and I'd take a bullet for him. Not like a kill shot, like maybe in the leg or something-
?."
When I asked Boyd for the story of is career he says that although there are many memories, his story is defined by the people he's met along the way. That brings him to Doug Rutherford and James Stuart (BELL MEDIA west coast VP): "They believed in me and I am so grateful of that. James hired me part time at Power 92 without hearing a tape, within 3 weeks I was filling in on mornings. James gave me the confidence that I could do anything and that is a special gift that I will forever be grateful for. He continues to encourage me. I'd also take a bullet for James, like a real one, not like a Kilcullen bullet."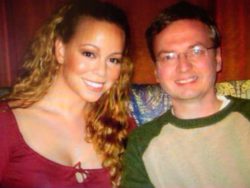 For the last five years Boyd has been the Program Director of the CFWE Radio Network our of Edmonton covering Alberta from Ponoka north servicing 85 communities including 98.5 in Edmonton, 94.5 in Ft. McMurray, 90.5 Lac La Biche, 96.7 in Bonnyville/Cold Lake/Lloydminster and 89.3 Pincher Creek/Lethbridge. His stations play the best Country Variety in Alberta and also feature specialty Aboriginal music programming.
Boyd sums up: "I have never considered myself very talented, which will come as no surprise to a lot of people who would agree with me. I have however, always tried hard and worked hard at what I do. Next Valentine's Day will mark my 39th anniversary being full time in radio – I haven't spent a day working in radio because it's never been a job to me.
I continue to learn and challenge myself. I'm also reminded everyday by Andrea and my boys as to what is important."
Pretty modest stuff. Let's set the record straight: Yes, Boyd is a hard-working guy, but he is also very, very talented broadcaster, a possessor of a wicked wit and sense of humour, smart, resourceful, and a wonderful colleague. He is always fun to be around and genuiniely cares about people's lives and careers and has thus turned out a lot of talent in his time. There are a lot of people who will keep their couch open for Boyd.
Keep it going mister! This industry needs people like you.
Thank you, Boyd Leader for being one of the "The Good Ones". Feel free to like and share Boyd's positive story. Who is the subject of tomorrow's JJ-365 Salutes? As they say, stay tuned.
Jim JJ Johnston is the CEO, President and Chief Talent/Content Coach for JJIMS INC. and works with talent in many different industries worldwide.