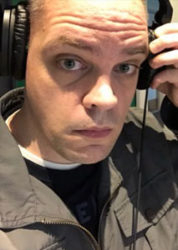 Broadcast Dialogue is reporting today that ten year station veteran John Ackerman (pictured) has been upped to morning co-anchor on News 1130 Vancouver.
He succeeds longtime anchor Reaon Ford, who was part of a handful of layoffs in the newsroom in June.
Sonia Aslam also moves into the midday editor role, vacated last month by Dave White who has joined CBC Radio Calgary.
PSR extends congrats and best wishes to both.  "Break a leg!"
PS .. John Ackerman's radio itinerary is supplied by Vancouver Broadcasters.
BCIT Broadcast Journalism graduate 2005; programmer CJSF Burnaby 2000/2003; researcher The Rafe Mair ShowCKBD Vancouver 2004; reporter/producer/anchor CKWX Vancouver 2004-07; reporter/producer CHEK-TV Victoria 2007-08; morning news CKCL-FM/CFUN-FM Vancouver 2008-10; producer/writer CKVU-TV Vancouver 2008-11; CKWX anchor/reporter 2008-13, midday anchor 2013-17 & Weekend Managing Editor 2017-current.