Dave Wheeler condemned for 'hate in his voice' on-air
by Aidan Geary

 · 

CBC News

 · 
.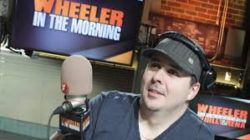 Dave Wheeler has been fired as host of 92 CITI FM's Wheeler in the Morning, in light of controversy over comments he made about transgender people. (@Wheelerj28/Twitter)
Rogers Media says it has fired 92.1 CITI FM radio host Dave Wheeler following controversial comments about transgender people that he made on his Winnipeg program Wheeler in the Morning this week.
Rogers Media spokesperson Andrea Goldstein confirmed the firing in an emailed statement Wednesday morning.
"There have been multiple disciplinary incidents, and in spite of numerous conversations, he has continued to offend our audiences," Goldstein wrote.
"As a result, we have ended our relationship with him and he is no longer with the company, effective immediately."
The decision was made yesterday.
Wheeler made the comments during a conversation on the program about Scarlett Johansson withdrawing from the upcoming film Rub and Tug. The American actor was facing backlash after she was cast to play a trans man.
In the conversation, Wheeler made a remark comparing transgender people to actors who "pretend to be different things." He reiterated the sentiment in a Facebook Messenger conversation with a woman who reached out to him regarding the commentary. The woman shared images of their conversation online.
The images show these words from Wheeler: "If someone is born human. And they pretend to be a dog. It is not right to agree with them for the sake of their feelings."
READ THE REST OF THE STORY  HERE