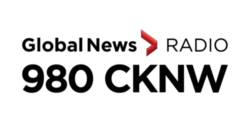 As indicated a few weeks ago here on PSR, CKNW no longer is carrying the popular overnight talk show Coast to Coast AM with George Noory.   As of Sunday night Dec. 17th the show was replaced with classic OTR radio programs from the 40's, 50's and 60's.
A recorded announcement indicates that the old radio shows are just temporary, that new permanent overnight talk programming for NW will launch in the New Year.
So far no word from the rights holder Bell Media as to a new Vancouver outlet for the Coast to Coast program.
UPDATE….. Roundhouse Radio CEO Don Shafer told Puget Sound Radio,  George Noory's Coast to Coast will be Officially Launched this coming Monday January 15th, 2018 at 10 PM on Roundhouse Radio 98.3. The Show will be 'Live' For those outside the stations signal, tune into Roundhouse Radio's website for their Live Stream