'Small but very aggressive' cancer has been operated on, but recovery forces songwriter to pull out of tour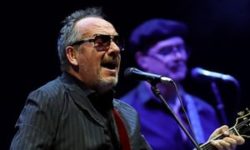 .
Elvis Costello performing in Madrid on 21 June. He has been forced to cancel the remainder of his European tour. Photograph: JuanJo Martin/EPA
Elvis Costello has revealed he was recently diagnosed with "a small but very aggressive cancerous malignancy" and has cancelled tour dates while he recovers from the subsequent treatment.
Writing on his website, the singer-songwriter said: "Six weeks ago my specialist called me and said, 'You should start playing the Lotto.' He had rarely, if ever, seen such a small but very aggressive cancerous malignancy that could be defeated by a single surgery." The message is the first time Costello has revealed he has cancer. He added: "I was elated and relieved that our European summer tour could go ahead."
Having been told he would need three to four weeks of recovery, Costello began the tour, and played a number of concerts across Europe. But he has been advised to cancel the remaining dates by his doctor. "The spirit has been more than willing but I have to now accept that it is going to take longer than I would have wished for me to recover my full strength," Costello said, adding apologies to fans who bought tickets for the cancelled concerts, who are told they should go to "point of purchase" for refunds.
He alluded to the nature of his cancer – which is not specifically named – by addressing his male fans: "Gentleman [sic], do talk to your friends – you'll find you are not alone – seek your doctor's advice if you are in doubt or when it is timely and act as swiftly as you may in these matters. It may save your life. Believe me, it is better than playing roulette."
READ MORE HERE  AT TheGuardian.com
Costello is married to jazz pianist/singer Diana Krall of Nanaimo BC with whom he has 11-year-old twin sons.