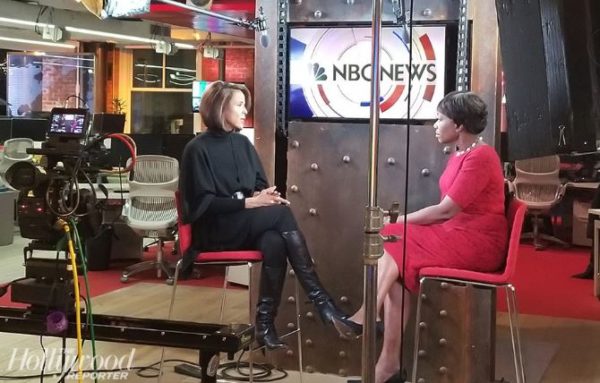 .
For the second time in a year, NBC News has shelved a story about celebrity sexual harassment. Last summer, it was Ronan Farrow's expose on Harvey Wenstein, which was eventually published by the New Yorker, and won Farrow a Pultizer Prize.
Now, the Hollywood Reporter has the story of Sil Lai Abrams, a woman who claims both music mogul Russell Simmons and Extra host A.J. Calloway sexually assaulted her; Simmons in 1994 and Calloway in 2006. Both men deny the charges. The story was originally to be reported by MSNBC host Joy Ann Reid, with an article in New York magazine (which says it did not publish the piece because Reid withdrew it.)
But it is THR that is now telling Abrams' story. Reid's reporting began late last year, even as NBC was still explaining why it passed on Farrow's Weinstein story. From THR:
In mid-December, MSNBC's standards and legal departments began putting Abrams through a grinding vetting process. She responded to their requests, providing documents from years earlier, including several court orders issued in New York against Calloway. She supplied contact information for sources who could verify aspects of her past, including some who had been told of the alleged assaults in the immediate aftermath.

In January, Reid taped an on-camera interview with Abrams at MSNBC's New York studio. But a process that had begun in December dragged on frustratingly for weeks and then months. At times, Reid texted or emailed Abrams about her sense that the network was "slow walking" the story with "stupid" requests. Finally, in April, Abrams says Reid told her that the network was no longer responding to her queries as to when the segment might air.
We're told that NBC's investigation attempted, but failed, to get a former prosecutor to talk, and that alleged witnesses turned down numerous requests to speak on the record. A source also tells us that Abrams would only participate if claims against both men were reported, but NBC's investigative team could only confirm one of the reports, so chose not to report on either.
READ THE REST OF THIS ARTICLE  HERE  AT AdWeek.com/TVNewser