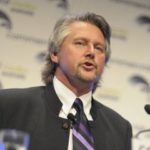 June 21, 2018
Welcome to JJ-365 Salutes. Over 2018, we pay tribute daily to one of "The Good Ones". Today we are shining the light on Drew Savage.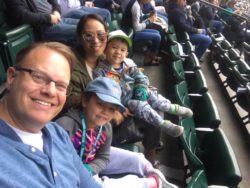 Here's a lad I tried to hire many years ago. I had him in our Standard Radio talent bank, liked his sound and had heard lots of good things about him from the radio "street." I actually did hire him for on-air at MIX 99.9 but that didn't work out. More on that in a bit.
Drew started in radio while in high school in Guelph Ontario. He applied in 1989 at what was then CKLA-FM for a part-time operator's job, but the Program Director PD, Don LeBlanc, liked his voice and put him on the air instead. It was a "beautiful music" format, so instead of playing the "cool songs", he was playing pan flute versions of the "cool songs". He was number one with everyone's grandmothers.
Marilynn Kane, the long-time morning show host on CKLA, made a huge impression on Drew: "I dropped by a remote broadcast she was doing at a hotel restaurant one morning before going to the station to fill in on mid-days. It was my first time seeing someone interact with their listeners in person and she was amazing at it. Her conversations with them were genuine and people LOVED her. Marilynn had a great work ethic & was very generous to this rookie broadcaster. Watching her with her listeners that morning will always stick with me."
After fill-in work for a year at CKLA, he attended the Radio Broadcasting program at Fanshawe College and graduated in the spring of '92. Drew gives shout outs to classmates Troy McCallum (PD at Boom 97.3), Cubb Carson (Bear Edmonton legend), Craig Picton (GM of Harvard's Fort Mac cluster) and the late Barry Sarazin, who headed up the program.
Braden Doerr gave him his first gig out of school doing the graveyard shifts at CKSL & Q103 in London. This is where he did first-ever weekend remote, which is only notable because he crashed a station vehicle into a fire hydrant on the way back.
Next, it was a 2 1/2 year stay at CFOS in Owen Sound doing just about every on-air shift including weekends, mid-days & mornings. Madelyn Hamilton even gave him an afternoon talk show for a while. In pre-internet times he managed to convince a few American publicists that Owen Sound was a suburb of Toronto and got some decent celebrity guests like Mark Hamill, Stan Lee, Adam West and several big daytime soap stars of the early 90s.
By '95, Drew needed to do something different, so he left the morning show and backpacked through Europe for 4 months. He said it was an awesome experience, but it took nearly a year to get back on-air regularly again.
Drew talks about Kevin Kelly: "Kevin has been there for me several times when I needed a break – I'll always be grateful for that. He initially hired me in Owen Sound after I got restructured out of London and was now PD in Guelph at the station I first started at. By then, the station was known as (and remains) Magic 106.1 – no more pan flutes! Kevin got me back on the air part-time until I could find a full-time gig."
A couple of months later, it was off to North Bay to do afternoons at Mix 100, followed by a third tour of duty at 75 Speedvale Ave East in Guelph, this time as morning show host at Magic, but he wanted more.
This is when I tried to hire him, and we had agreed he would join the mighty MIX in Toronto. Then, I got a phone call letting me know he wasn't coming after all as Rick Moss just showed up and gave him the opportunity to do mornings on the soon-to-be-launched Energy Radio 103.1 in London. So, swing shift in Toronto at MIX, or mornings in London? While I was surprised at the time, it made sense to me.
Shortly after Energy launched in London, he started hosting his first live-to-air club gig and as it turns out, his first ever on-air bar fight. Every couple of months, the club manager would bring in a special guest to perform during the Live To Air broadcast.
One night, Snow was the guest. He had just mounted a comeback and had a hit on the radio called 'Everybody Wants to Be Like You.' For the first hour of the LTA, it would be Drew & DJ Maxx, then Snow would do his set and then back to Drew & Maxx for the final 2 hours. Here's what happened recalls Drew: "Snow came out to a huge reaction – people are thrilled to see him and he plays his first song. The crowd cheers some more, but then a few people up front start chanting for the song that made him famous, 'Informer.' Snow says he'll play it, but first he's going to do something from his new album. It happens a few more times when finally, the drunk guys ramp it up and instead of chanting 'Informer', they start chanting 'Ice Ice Baby', which, of course, is a Vanilla Ice song…not a Snow song. Snow loses it and goes into the crowd to confront the drunk guys – they bump chests, people get pushed, someone takes a swing. It's crazy. Snow's tour manager takes the mic, yells at the crowd for being disrespectful and drops a few 'F' bombs. Did I mention that this is all LIVE ON THE AIR?!?!? The situation quickly passed with Snow & his manager leaving."
Drew was at the Rolling Stones 'SARS-stock' concert in Toronto when Barry Smith called and asked if he'd talk with Eric Samuels about moving to Vancouver and joining Z95.3 – a CHR powerhouse he admired from afar in a city that has since become his home.
Over time, the show grew and so did the fun. Highlights of their time at 95.3 include: Breaking & Entering Christmas (we did it as Little Tommy Sablan in San Diego created it – by actually going into people's homes without them knowing & setting up the Christmas they didn't think they'd have), Lads in Labour (where we simulated labour pains for men on Mother's Day), the Justice for Captain campaign (which raised $100,000 for the SPCA) and numerous bets involving wearing a chicken suit.
In 2014, after Bell Media's purchase of Astral was complete, and the entire morning show crew was moved over to their new home at 103.5 QMFM, and the fun continues.
The Nat & Drew Show is the best job in the world he says and his thanks & gratitude go to Natalie Hunter, Erin Davis, Producer Joey Arsenault, Young Vik Sahi, Program Director Curtis Maddams Strange, General Manager James Stuart, Ronnie Stanton, Brad Phillips, Eric Samuels and Scott Shantz for making it that way.
Drew says: "Of what I've learned: The fastest way to get better on the air is to work with great people on the air. Early in my career, that meant Marianne Zahoruk, Claudia Staines, Fred Wallace, Dave Carr, Tina Trigiani and Derek Botten. Marianne & I did mornings together in both Guelph & London – sadly, she passed away a couple of years ago. She had a giant heart and smile to match."
His advice to young talent: "Move. Open your eyes. Go to different places and do different things. Make the most of every opportunity you're given – you never know where it's going to lead. Case in point, what was supposed to be a two-week stint filling in on the Z morning show with 365'er Nat Hunter in November 2003 (Eric hired him to do afternoons), was instead the beginning of 14+ years of friendship & partnership. We hit it off immediately, even if we were the only ones who thought our stuff was funny at the time. #turkeypop."
Drew enjoys community work emceeing events for groups like the Adoptive Families Association of BC, Mission Possible and PALS School for Autism.
Drew sums up with: "Vancouver is where I met my wife Shelley & started a family that includes 6-year-old daughter Marlo, 3-year-old son Luca and dog Lola. We are loving life in the village of Steveston where the mighty Fraser River meets the Pacific. Oh…and by the way…Tom Brady is the greatest quarterback to ever live."
Drew has a great strength of character. He's smart, works hard, and is a solid colleague. He made the right choice when I tried to hire him all those years ago and I continue to applaud him for it.
Thank you, Drew Savage, one of the "The Good Ones". Feel free to like and share Drew's positive story. Who is the subject of tomorrow's JJ-365 Salutes? As they say, stay tuned.
Jim JJ Johnston is the CEO, President and Chief Talent Coach for JJIMS INC. and works with talent in many different industries worldwide.