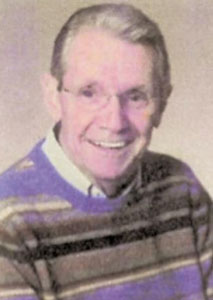 Very sorry to read the obituary of our old radio friend Jim Macdonald, who died May 29 at age 87.
After working briefly for the Shell Oil Company, Macdonald was hired by CHWK Radio Chilliwack, writing commercials and playing piano "live" at noon. He worked his way into the newsroom and got a scoop in Dec. 1956, when acting on a tip, he reported that fuselage wreckage from a long-sought Trans-Canada Air Lines crash had been discovered by a mountaineer on Mt. Slesse, near Chilliwack.
Jim was promptly hired away by CKWX AM 1130 in Vancouver. After covering the crime beat and working as a city hall reporter, Macdonald became an 'open line' talk show host and interviewer, teamed first with Barrie Clark, and later with Bob Bye.
Jim became known for his ability to use the pregnant pause to get his guests to open up.
After leaving WX he was host of a mid-morning talk show on CKVN/C-FUN AM 1410 (1970-76).  He also went on to become a familiar face on Channel 8.
Macdonald eventually returned to Chilliwack and co- founded the Answer Cabaret with Bill Wosk. After selling the business, he became a food and beverage executive with the Harrison Hot Springs Hotel for 14 years. Later, he was manager of the Lougheed Hotel in Vancouver and opened the Suites at Conference Plaza.
Originally hailing from New Zealand, and known in some circles as 'Kiwi,' Macdonald had been retired since 2000, living in Ladner, BC, with his wife Bernice (Bea).