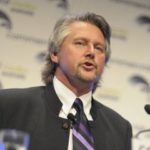 by JJ Jim Johnston
June 2, 2018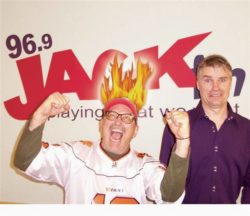 Upon arrival at the FOX in '88 I promptly made Ross Winters Assistant Program Director. While trying to figure out what to do we knew that a new morning show was likely. Ross (now VP Programming Pattison Radio) and I still keep our eyes and ears open for talent and in this case, Ross came forward with a package from a couple of young guys from Thunder Bay. In it was a bunch of random tape, and included shampoo samples and burger coupons as added incentives.
We laughed and said we need to check these guys out. We talked to them and I got on a small prop plane into Thunder Bay and on the way to meet them the cabby yacked non-stop about these two fellows who everyone in Thunder Bay listened to. We are talking the legendary "Larry and Willy" featuring Willy Percy (who we will salute later), and Larry Hennessey who we salute now.
Larry started in Wabush, Labrador as a 15-year-old doing summer replacement. He continued his Canadian geography lesson working in St, Johns, Winnipeg, Moncton and Thunder bay where he met up with Willy Percy and the two become fast friends and business partners. The Larry And Willy Show become a local success and the two started putting feelers out. This is when we got that unusual and funny package that stood out from the rest. They reminded us of Mark and Brian who had a tough start with their conversational style at KLOS which had been primarily a rock music station with a lot less chatter. They weathered the storm and went on to eat up the Los Angeles market.
As you do, we talked to a lot of people when trying to get a new morning show in place. It all kept coming back to the guys in Thunder Bay. We liked their different sound, their energy and endless creativity. Thunder Bay to CFOX Vancouver was quite a step and with the backing of our great GM Alden Diehl, our consultants Pat Bohn and Chuck McCoy, and Moffat head office support from VP Jim McLaughlin and National Program Director Gary Russell, we all went for it.
When they arrived in '88, I remember Bruce Allen saying: "Hey JJ. I thought you were going to get us Mark and Brian, not Homer and Jethro." Bruce came onside pretty quickly and has been a pal ever since.
I remember getting the call from Larry on their way to Vancouver. Calling from Kelowna he anxiously said "are we all sure about this? Are you going to support us" and of course the answer was yes, and we will lived up to it. They had a tough start as no-one had heard anything like them on the radio. We were getting pounded with negative feedback day after day, and it got to the point where we all sat down and found a common phrase the audience was using: "Larry and Willy suck!". All of a sudden L & W were on the air saying things like "You're listening to the Larry and Willy show. We suck and might not listen if we were you…we're just two young guys with kids trying to make a living"…etc.
They also created the "Complaint Meter" which was the sound of a submarine submerge that went off regularly throughout the show for awhile. Very humourous and two things happened: Those that liked the show hung around and the rest buggered off and it took the bad chatter down. At that point we launched "L & W meet every listener" where they vowed to meet all in the audience over the next year. Everyone they met got a shout out and a signed card that had their listener number on it. It took a few ratings periods but then the show came home big time.
I have to give a shout out to 365'er Glen Glenn Chalmers, Gord Forbes, and Sales Manager Skip Hudson who while hearing it all out there in the early days, unfailingly weathered the storm with us.
Larry and Willy were famous for creating many morning show contest ideas that were copied around the world like the $10,000 T Shirt where contestants had to wear the same shirt everywhere for a month. They pre-dated Fear Factor and Reality TV with "The Toughest Contest Ever" challenging people to leap out of their comfort zones and agree to have tarantulas crawl over them, eat bugs, swim with Pythons, jump from airplanes, and pioneered the concept of two strangers getting married just to win a contest. The contest even spawned a Highlight TV Show.
They released two CD's that sold 20,000 units and a pioneering video that sold almost 5000 copies. It was the number one VHS Tape sold for a month and led to early production of CFOX TV commercials by using computer non-linear editing. Larry and Willy wrote them, shot them, appeared in them and did all the post production.
In 2003 they were talking to the late and great Gary Miles at Rogers Radio about the idea of starting a new radio station with a unique format. Most stations at the time played one type of music. They wanted to mix a variety of styles and eras which is what JACK-FM is all about. They helped with the birth of the station, which was number one out of the chute and now one of over a hundred JACK FM stations worldwide.
Larry also has a lifetime fascination with music and is a singer (being accepted in Vancouver's Bach Choir) and multi-instrumentalist. His favorite, the bass which he presently plays with Paul Hyde of The Payolas fame and played on Paul's new album. He also owns two recording studios and is a producer, mixing and mastering engineer.
With his www.regenertorrecords.com he helps to preserve Canadian music with releases by Chad Allan and the Early Guess Who and Mr. Seasons In The Sun, Terry Jacks among others. Original reels are copied to digital by his www.reeltoreeltodigital.com. He loves to transfer and remix vintage reel to reel recordings.
Larry is a lifelong collector of vintage audio equipment and rents these as props to movies through www.microphonerentals.com. The company has over 450 microphones alone. On set consulting for scenes with vintage recording sessions has become a specialty having recently worked with ABC TV's When We Rise, DC's Legends Of Tomorrow: re-creating the SUN studio with Elvis in 1957 and Bad Times At The El Royale with Jeff Bridges re-creating a 1962 soul music recording session.
Needless to say, Larry is a busy and creative cat. No grass growing under his feet. He is one of the most likable guys out there, a solid teammate, has always worked hard at anything he wanted to take on, and is a great family man. Larry and lovely wife Theresa Hennessey spend a lot of time between their Vancouver and country homes with their kids who are all grown up. He's had huge success but still is that nice guy from the 'Rock.
I am pretty lucky to work with great talent. I'll never forget when Larry and Willy took the gigantic leap from CKPR Thunder Bay to mornings at CFOX. It wasn't easy in the early days, and we used to joke that we had to wear hard hats. I knew they would bring it home, and we all just banded together and made it happen. Those two lads who had the courage and humility to go on the air stating "We Suck" turned out to be anything but sucking. It was so fun to be a part of it with such good people.
Thank you, Larry Hennessey, one of the "The Good Ones". Feel free to like and share Larry's positive story. Who is the subject of tomorrow's JJ-365 Salutes? As they say, stay tuned.
Jim JJ Johnston is the CEO, President and Chief Talent Coach for JJIMS INC. and works with talent in many different industries worldwide