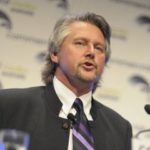 May 26, 2018
Welcome to JJ-365 Salutes. Over 2018, we pay tribute daily to one of "The Good Ones". Today we are shining the light on Dean Hill.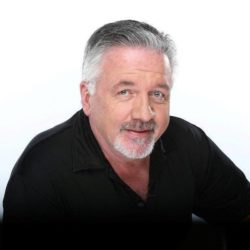 I have had the absolute pleasure of working with Dean a couple of times at LG and at ROCK 101 where he is solo on afternoon drive these days. This fellow has been a total pro since the day he started and has always delivered strong rating numbers. He is the epitome of a well prepared, professional and real performer.
I think I first met him at one of famous Moffat Communications slow pitch ball tourneys in Moose Jaw although after those weekends everyone was always a bit fuzzy-
?.
I do know that our late and great friend Gary Russel was there lots and I was happy to get to know that radio god and become a little brother! I was very curious about the Morning Zoo, how it got put together, who the players were and the identity of the secret sauce. Gar said everyone on the show were great performers, but Dean was the glue.
Dean started in radio at CKDA Victoria 1974-75 on all nights and says he was a freaked-out kid. The first real radio guy he ever met was Gordie Tupper who just recently hung it up at CHEK. Dean is a modest guy and says that somehow made it to middays and afternoons over his three years there. He enjoyed Victoria but then was on the move east: "I was hired by the wonderful Ross Davies to move to Calgary and be the first evening guy on the all new CJAY 92. As I recall that was the first time I met one of my favourite humans Bob Saye.
I stayed a couple of years and was hired by Gary Slaight to do evenings on Q107 and eventually did afternoons. I think John Donabie had moved on. John's first words to me when I walked into Q control were 'You look like a washed-deaup teen idol'. I proceeded to become a runner and lost 50 pounds. Thank you John!"
After a year and a half in Toronto The Real Roy Hennessey brought him back west to do afternoons on the all new CFOX at the magical 1006 Richards St. He remembers at his introduction at a staff get together, Greg Collins tossed a glass of red wine on his shirt which he called "a baptism." That was late '79 early 1980. Roy came up with a great contest idea to kick off his return to Vancouver which he still hears about from time to time: "Dean Hill's imaginary record store." They hit the street with a mic and got people to name off a number of their favourite records in a few seconds and then they'd win them all. It was simple, worked well and obviously memorable.
He did drive at CFOX for something like 5 years with Don Shafer as PD and met and worked with many he describes as wonderful, extremely talented people including Jeff Hamilton, Valerie Ambrose, Darrell Hebert and a then "intern/hang around for no money guy" and 365'er Glenn Chalmers. Dean has a knack of bringing things out in people and says any warm body in the radio station can be a hit on-air partner for fun bits. He and Glenn literally rolled around laughing on-air several times unable to speak. Dean and Jeff did some crazy bits with old sound effects records. He says Bob Saye and the gorgeous Valerie did news with him, both of whom are huge talents. He also had a lot of fun as the first drummer for the CFOX Electric Lunch Orchestra: "There was lots of crazy going on there with the CFOX ELO with Hebert, David Pratt, John Beaudoin and others all making loud very sloppy noises. We gigged around town for awhile playing the Commodore Ballroom, Outlaws and a few other clubs."
Then he decided to pull the plug and take a once-in-a-lifetime trip traveling Australia and Asia for a few months. Upon his return Gary Russell hired him and some more huge talents to do this show called the LG Morning Zoo. Talk about a cast! Merv Connelly, Stu Mcallister, Glen Lamont, Graham Hatch and his soon to be wife Samantha on traffic. Possibly the greatest GM ever in Alden Diehl was a huge supporter and gave them all the room and support to make it happen. David Kaye was brilliant on the show in so many ways as well. Kate Gorman was a standout. Kat Stewart was young and talented as a traffic person and nicely filled in while Sam was on mat leave after giving birth to daughter Sayde on-air!
I was the Program Director of both FOX and LG at that time after Brad Philips had left to launch Z-95.3. That was a tough battle with us on AM and the concept of getting the audience involved in Sam's pregnancy kept and grew the audience over those months of attack. That stunt was suggested by the way by Rick Dees who heard from his producer Jack Silver that they were doing a pretty good show up in Vancouver. They won a Nellie for that.
After another break he ended up with Bob Saye again at CFMI and had a great time doing mornings as Bob and Dean. Dean says: "That ended, and I began a great run with the outstanding, mega talented Graham Hatch doing afternoons on Rock 101, Dean and Hatch. We got ourselves a BCAB award." And not to mention consistently awesome ratings.
These days he is doing a one-man thing at Rock 101 in afternoons, has been there for 22 years and is back working for Brad Phillips. He says life is good.
Dean is probably cringing as he sees this because that is the kind of guy he is. He puts the credit on everyone else and quietly goes about getting it done. He is a man of many talents who is selfless, inclusive and strives for perfection. He can bring it out of anyone and some people who you would least expect had it inside them. His preparation for his shows is legendary and there aren't many who work harder at it. I always say, "chemistry is not content, chemistry bring content to life." No one knows this better than him. You're not going to meet many better than Dean as a pal, a co-worker or audience member. Keep it going Dean, you are an inspiration to many, including me.
Thank you, Dean Hill, one of the "The Good Ones". Feel free to like and share Dean's positive story. Who is the subject of tomorrow's JJ-365 Salutes? As they say, stay tuned.
Jim JJ Johnston is the CEO, President and Chief Talent Coach for JJIMS INC. and works with talent in many different industries worldwide.