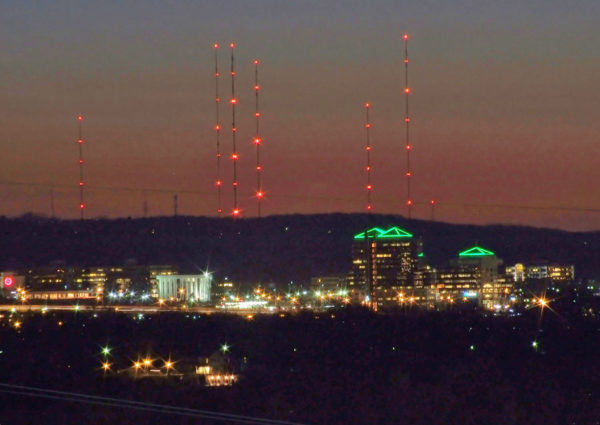 I know I may sound like a relic from another era, but chances are if you're a Baby Boomer (or gasp – even older), you were inspired by AM radio as a kid growing up whether it was in a big city or a small town.  If you're a member of a younger generation, you may not even know that AM – or amplitude modulation – has a magic power.  At night when the clouds are just right, AM signals have the ability to "skip" across geography, unlike frequency modulation (FM) which is line of sight.  "Clear channel" stations had an even easier time being heard beyond their metro confines – often covering many states during the nighttime hours.
Many of us radio veterans remember those nights, lying in bed, where your trusty bedside AM clock radio pulled in signals from all over the U.S. As a boy in Detroit and not especially well-traveled, I learned how to pronounce Des Plaines (Des-planes) and Toughy (2E) by listening to Chicago radio stations like WBBM and WLS.  Tuning in KYW in Philly (which came in "like it was next door"), I learned how to spell the quirky town of Conshohocken from listening to Phillips Ford commercials.  It was from a jingle that got in your head (CON-SHO-HO-CKEN).  At least, it got in mine.
It didn't matter if you lived in Dallas or Des Moines, or a small town in Delaware – you were able to pick up big AM radio stations from faraway.  And if you talk to today's broadcasters on the other side of 50, many will tell you their careers were likely inspired by these booming, exciting blowtorches on AM radio that provided a soundtrack for our teens.
AM radio was where we first heard the Beatles, the Supremes, the Stones, Stevie Wonder, and even the Doors.  Big AM Top 40 stations of the day – KHJ, WABC, CKLW, WLS – played all these cool rock songs, right next to Herb Alpert & the Tijuana Brass, Elvis, Bobby "Boris" Pickett, and the Singing Nun.  And even though the fidelity of amplitude modulation is obviously technically inferior to that of FM, there was something very different and even romantic about hearing all those songs first on AM radio.  All the big recording studios used AM radio-sounding speakers as they worked on their final mixes, knowing that's where the music would first be exposed.  They may have sounded cleaner years later on FM, but they sounded bigger on AM.
READ THE REST OF THIS COLUMN  HERE  AT JacobsMedia.com