.
by JJ Jim Johnston
May 22, 2018
Welcome to JJ-365 Salutes. Over 2018, we pay tribute daily to one of "The Good Ones". Today we are shining the light on Stirling Faux.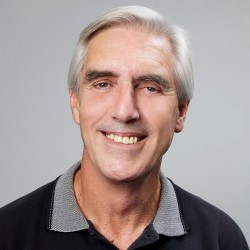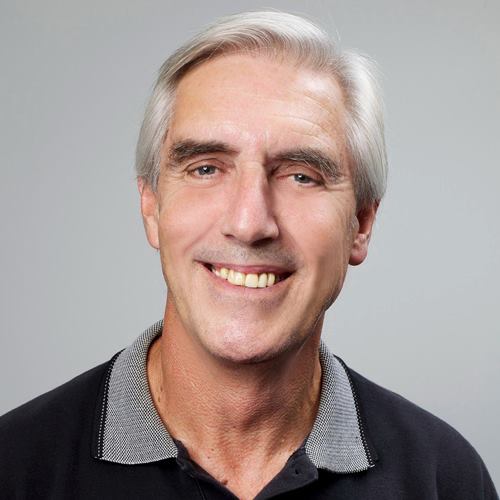 When I first arrived in Vancouver as Program Director of the FOX, CFMI was eating our lunch. Don Shafer had moved over there and took a number of people with him and of those left, many wanted to join him. Bob Saye and Stirling of course made the move and together they all turned that station around and quickly. I listened lots to the Stirling and Bob's morning show and thought both players not only knew their roles inside and out, but they came to play each day. Stirling was as smooth as glass (still is) and Bob was the reactor and consistently cracked the both of them and the audience up. Over at FOX we had a lot of ground to make up and I knew it wasn't going to be easy to get back in the driver's seat.
Stirling was born raised and educated in Peterborough, Belleville and mostly Toronto. His idols growing up were Al Boliska, Jungle Jay Nelson, Bob MacAdorey and all those CHUM greats. Since grade school he wanted in to the business and his career began while attending Laurentian U. in Sudbury Ontario. He was also working part time in TV at CKSO where Doc Harris and the late and great Gary Russell also worked on the radio. He got to know them and their boss George Johns who gave him his first start a few months later, after many 'after sign-off' sessions upstairs in a production studio doing dummy shows until he got the hang of it. Gar and Doc would critique his stuff until one day they told him he had a meeting with George and that was it – He realized the dream in mid-November 1970. George soon left for Ottawa and was replaced by Paul Ski. Between those first 2 all-star bosses he learned an awful lot about the biz.
Next stop – CFTR Toronto with George Johns again, fresh from Ottawa, and a mandate to take Ted Roger's 'elevator music' station into the world of pop. Stirling says: "Huge fun! George was a joy. I got to work with Bob MacAdorey for a few months and became friends and eventually roommates with a crazy young board op, who George also gave a first start to, named Rick Moranis. That crew with Earl Mann, Roger Klein, Rick, Doc, Chuck 'the Magic' Christian and many others was legendary, and the impact on the city was powerful."
George made his move to the States (Indianapolis) and soon after Stirling left for Quebec City to try his hand as a Program Director at the only English language station in town – CFOM. He says there were a tiny team of young keeners. Ted Silver, Bill Hayes, Sandy Davis, Isaac Shane and Mark James were his guys and they went for it. After 6pm they ruled Quebec City and the separatists hated them for it. Laval University was a hotbed of separatist activity and the militants there despised them: "We of course loved the extra publicity as we had virtually no ad budget. Things got pretty heated and downright nasty sometimes. I can recall being dragged out of bed in the middle of the night by another 'bomb threat' and having to meet the engineers and the bomb squad and dogs at the transmitter. Not a lot of fun, especially in January. But we made radio history!"
Frank Callaghan, on Gary Russell's recommendation, called Stirling early in '74 and hired him to do mid-days at CKLG Vancouver. By then, he knew management wasn't his thing. He really enjoyed coaching and leading the team, but hated the paperwork and endless details, a lot having to do with the CRTC, so Frank's call was perfect. He and Carole drove across Canada in February in a '66 Strato Chief and when they hit the Fraser Valley near Chilliwack and the sun was shining and the birds were singing, they decided this was were they were going to be for a long time! CKLG with Roy Hennessy, Dan Williamsonn, Michael Morgan, Doc Harris and the rest was an absolute powerhouse. The competition was CFUN, which had him and Doc again battling CHUM on a new playing field. "Doc loves to tell the story about my first day on the job at CKLG. He showed me around, introduced me to everyone and then he took me to lunch. On the way to the restaurant Doc says we're going to meet the late and great's Darrel B. and Fred Latremouille and some of the other CFUN guys. I completely freaked because, in Toronto, to be seen in public with someone from a rival radio station was grounds for immediate dismissal – no questions – and here I am, on my first bloody day on the new job, about to be seen with the competition, which would likely get me fired. So, we go to Bimini on west 4th and sure enough there's Darrel B. and several CFUN guys who came over to shake hands and order up lunch. Doc had clued the CFUN guys into the situation and they all watched me on a slow roast for about twenty minutes before Doc finally says, 'Relax man, those Toronto rules don't apply here'. Everybody had a good laugh at my expense and I still had a job. All good."
After a few years on CKLG he moved down the hall with The Real Roy Hennessey who took over LG-FM and set it up to become CFOX a year or so later. Stirling was part of the original CFOX lineup doing afternoon drive. In the 80's in Vancouver he ended up doing mornings at CFOX and CFMI (Rock 101) with an amazing series of co-hosts. He got to work with Julie Brown, Jane McDougall, Jennifer Lo (now Burke) and eventually Bob Saye: "I've enjoyed a long and diverse career doing pretty much exactly what I've wanted to do for a long time, but I've never had more fun doing my work than those years with Bob Saye. He is a complete lunatic who never looks the part. We only ever had one rule which was 'never rehearse'. I didn't want to know what he was going to say. I wanted to be as surprised and cracked up as people listening to us were. So, we worked out a system where he would only tell me when to interrupt him and reel him back in, and I got to sit back and enjoy all the rest. We worked for Don Shafer in those days and Dale Buote too. They left us alone and paid us well. We delivered the numbers. And laughed. A lot."
Stirling also started hosting "Lotto Night in BC" every Saturday night on TV and gave away millions on live TV. No room for error and a fun job that lasted nine years which in TV is several lifetimes. He also knew perhaps his music radio days were coming to a close, so TV was a great transition vehicle.
In '93 he asked CKNW's Program Director Doug Rutherford about doing talk radio. Doug said he needed to take a year and become 'identified' with CKNW. So, Stirling spent a year doing music on 'NW weekends and filling in for Rick Honey and Frosty Forst. At the end of that Doug handed him the weekend gig on a new WIC network national late-night talk show starring David Berner. Shirley Stocker babysat his first show from Midnight to 4am and pronounced him 'capable'. He says he is forever grateful for Shirley's help and no-nonsense inspiration. That late-night 'experiment' lasted 6 years and he eventually took over full-time duties after David left to do a local show on NW. Stirling spent many years on CKNW doing national and local shows.
In 2005 CHQR Calgary called him up and invited him over to host the Morning News. He spent the next three years enjoying Calgary and Alberta like he never expected.
Corporate downsizing saw him return home to Vancouver and he went back to music at CISL playing oldies after Gerry O'Day convinced him to think about it: "You know all the words to all the songs he told me after I said I hadn't played music in many years. He was right. Oldies were fun and eventually I ended up doing mornings for a short while. Great soft landing back home on the Coast."
In the last few years he's become a freelancer. His old pal Don Shafer called him to help him with his Roundhouse Radio project which unfortunately just came to an end.
Likewise, when Larry Gifford Program Director of CNKW called him up and asked for some weekend help, and he was happy to oblige. He continues to host "Vancouver Consumer" Saturdays on CKNW and fill in for Jill Bennett and others occasionally. He's 47 years into doing exactly what he's always wanted to do. Hitting the magic 50 in November 2020 is his next objective and he says he'll have a re-think about his career after that milestone, but there will be a party first!
Stirling sums up with: "Has it been a smooth ride. Hell no! Are there things I probably should have done differently? Sure. Who wouldn't like a do-over. Am I a lucky guy? You bet! Still as passionate about our business as I was in my first year. It's not the same business I got into in the fall of 1970 – that is for sure, but you know what? When I'm in the studio and the red light goes on, I'm completely focused, and in-charge and my world is at peace. That part hasn't changed at all. As long as there are people who want to listen and a station who wants to connect with those listeners, I'm in a position to help make that happen. I'll be here for a while yet."
I only got to hang with Stirling a bit on my second tour in Vancouver. As I got to know him a bit better I pondered as to why I did not do this on my first time there? I think it was that competition thing he was talking about.
I've always admired Stirling and I appreciate his many talents. What I like most though is the kind of guy he is: friendly, courteous, easy going and fun. It's not hard to have Stirling as a pal.
Thank you, Stirling Faux, the legend, and one of the "The Good Ones". Feel free to like and share Stirling's positive story.
Who is the subject of tomorrow's JJ-365 Salutes? As they say, stay tuned.
Jim Jj Johnston is the CEO, President and Chief Talent Coach for JJIMS INC. and works with talent in many different industries worldwide.