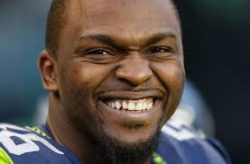 SEATTLE – Less than a week after being released with a failed physical designation, former Seattle Seahawks defensive end Cliff Avril announced Monday his plans to join Sports Radio KJR 950.
Avril will co-host a radio show with Jason Pucket called '"The Jason Puckett and Cliff Avril Show" on weekdays from 10 a.m. to 1 p.m, according to the station. The first show will be on July 9, just weeks before the Seahawks open up training camp.
"Cliff Avril is a tremendous addition to our team at Sports Radio 950 KJR," Rich Moore, Senior Vice President of Programming for iHeartMedia Seattle, said. "Cliff is a beloved Seahawk who will embrace this community and truly engage with the Seattle sports fans on all our platforms. Cliff had an amazing career and we are lucky to be part of his next chapter."
A third-round pick by the Detroit Lions out of Purdue University, Avril joined the Seahawks as an unrestricted free agent in 2013.
In five seasons with Seattle, Avril recorded 41 sacks in 77 games, playoff stats included, and was a member of the Super Bowl XLVIII winning Seahawks.
In addition to his dominant play on the field, Avril has been a valuable member of the community.
READ MORE  HERE  AT THE KIRO 7 WEBSITE