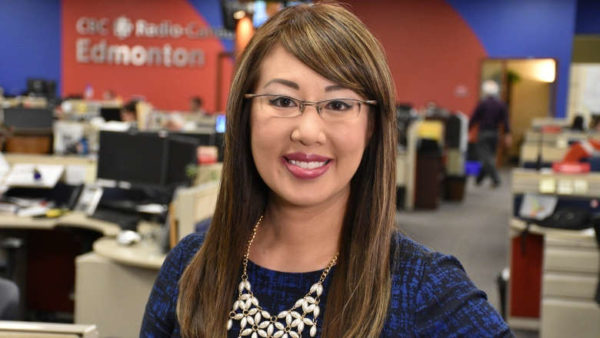 FOR IMMEDIATE RELEASE
Ms. Pan makes her debut as host of Radio Active on Tuesday, July 3
Edmonton, AB—CBC Edmonton is pleased to announce Adrienne Pan as the new host of Radio Active; the afternoon drive show on Radio One for Edmonton and Northern Alberta.
Edmonton is Adrienne's home town, and this May marks seven years for Adrienne at CBC Edmonton. She first started as the late-night TV host, and then moved on to co-host the News at Six with Mark Connolly. Since 2015, Adrienne has since been solo anchoring the TV News at Six.
Adrienne's foray into hosting radio began in 2016. The Fort McMurray wildfire began on Pan's second day hosting Edmonton AM. "It was a terrifying experience doing hours of unscripted radio, but it was one of the most important moments in journalism I have experienced in my career," says Adrienne. Since then, Adrienne has become the regular fill-in host on Edmonton AM.
With more than 15 years of TV broadcasting at several stations and cities behind her, Adrienne is ready to take on the demands of radio current affairs.
"I am delighted that Adrienne is the voice of our afternoon show. Together with Mark Connolly, we have  two great radio hosts who will continue to champion the best in Edmonton. Both Adrienne and Mark have deep roots in Edmonton and are committed to bringing audiences the information they need," said Gary Cunliffe, Managing Editor, CBC Edmonton.
Adrienne takes the host chair officially on Tuesday, July 3.
An announcement will be made in the coming weeks regarding the new host of the TV News at Six.
-30-