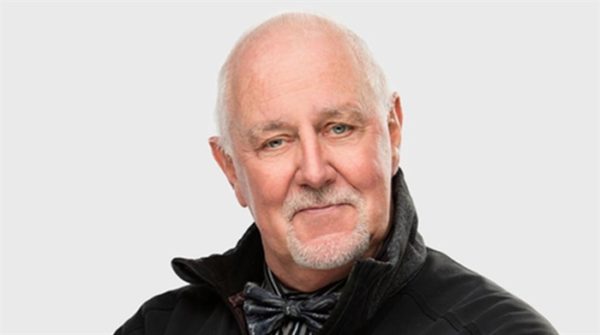 Phil Johnson, host of the Early Edition on AM 1150 in Kelowna, is seen in this submitted photo.
Image Credit: SUBMITTED/AM 1150
.
May 03, 2018     courtesy InfoTel.ca
.
KELOWNA – Phil Johnson has a sonorous voice, made for the radio, and if you've ever met the Kelowna talk show host in person you would find he has the physical stature to match.
Yet Johnson is the first to admit he is no match for lupus, the disease he says has irrevocably changed his life.
"I can no longer cycle, a flight of stairs is a challenge, a brisk walk is a distant memory," Johnson says of the diagnosis of lupus he was given just a few years ago.
And it's not just physical, he says, of the times he endures "lupus fog" as he terms it.
"At times my memory is faulty," he admits.
Johnson first encountered the autoimmune disorder that would come close to killing him when he started having "massive" attacks of hives.
A battery of allergy tests proved inconclusive before he finally received a diagnosis of the disease that has permanently damaged his kidneys and at one point, threatened to do the same thing to his lungs.
"The elevator broke down in our building and I had to climb three flights of stairs to get to work in the morning," he recalls. "By time I reached the third floor, I was gasping for air and near collapse."
That prompted another trip to the doctor but this time, they quickly zeroed in on a probable autoimmune disorder.
Lupus affects many more women than men but the signals the body's immune system is turning on itself are different for each person regardless of gender.
"If you have 100 people in a room, each with lupus, you will have 100 different people with different symptoms," he says.
Some of the more common symptoms include recurrent fever, skin rashes, swelling joints, oral ulcers, sudden hair loss, breathing problems and changes in urine colour and frequency.
He urges anyone who has a family history or persistent unexplained symptoms to see a medical professional immediately.
There is no cure for lupus and those who suffer from the condition must learn to manage their symptoms and triggers, Johnson says.
"Everyone has good days, better days and some downright bad days," he adds. "Salt is a no-no. A number of favourite foods are on the forbidden list as they can trigger lupus flash."
Johnson is using his local media connections to promote Living Well with Lupus, a free informational seminar from 9 a.m. to 3 p.m. this Saturday, May 5 at the Kelowna Gold and Country Club.
The daylong event features a host of speakers including a rheumatologist, pharmacist, naturopath, dietician and a fitness coach.
While there is no charge for attending, advance registration is required by calling 250-869-1335 or emailing [email protected].
MUCH MORE OKANAGAN & KAMLOOPS NEWS IS  HERE  AT THE InfoTel WEBSITE