ON THIS DAY in 1892 
magician & 'mentalist' Joseph Dunninger was born in New York City.                                                                                 .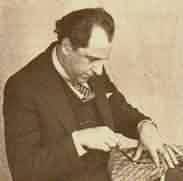 He became a radio star in 1943 (on the NBC Blue network) under the name The Amazing Dunninger because he could apparently read minds & forecast the future.  However the program became predictable & boring & lasted only 18 months.  He did resurface for short periods as a summer replacement on radio & in early TV.  He died March 9 1975 at age 82.
In 1908, actor Michael T Fitzmaurice was born in Chicago. Blessed with a great voice, his hey-day was on radio where he played Superman in the half-hour weekly version. He co-starred on another kids radio serial, The Sparrow & the Hawk, had feature roles in the soaps Stella Dallas & This Life is Mine, & was announcer or MC on The Land of the Lost, Tales of Fatima & Quiz of Two Cities.  He died of lymphoma Aug. 31 1967 at age 59.
In 1921,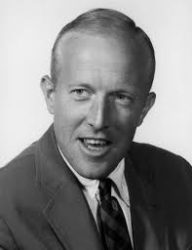 political columnist Rowland Evans was born in White Marsh PA. 
   He was a frequent guest on news programs on radio & TV, and co-hosted CNN's Evans & Novak with Robert Novak.  He died March 23 2001 at age 79.
In 1922, radio station WOI, Ames, Iowa, became the first licensed educational station in the US.
In 1929, actress Carolyn Jones was born in Amarillo Texas.  Although best remembered as Morticia in TV's Addams Family, she also had a prominent role in the soap Capitol, where she was still working when she died from colon cancer Aug. 3 1983 at age 54.
In 1938, actress Madge Sinclair was born in Kingston Jamaica.  Her broadcast breakthroughs were as Bell on the smash mini-series Roots, and as a regular on Trapper John MD.  She succumbed to leukemia Dec. 20 1995 at age 57.
In 1940, Pennsylvania 6-5000, the classic Glenn Miller signature song, was recorded on Bluebird Records. It was the telephone number of the Café Rouge at the Hotel Pennsylvania in New York City where the Miller band frequently played.
In 1946, the No. 1 Billboard Pop Hit was "Prisoner of Love" by Perry Como.
In 1957,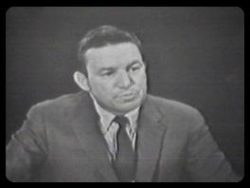 one of TV's most respected personalities was seen for the first time coast to coast.  Mike Wallace was the host of The Mike Wallace Interview, a Sunday night program that featured the grilling of greats, including Gloria Swanson, Steve Allen and stripper, Lili St. Cyr.
Also in 1957, the Ed Sullivan Show on CBS-TV featured Bill Haley & the Comets performing "40 Cups Of Coffee" & the instrumental " Rudy's Rock."  Also appearing were Lena Horne, Tony Perkins and Jack Paar.
In 1958, "Alan Freed's Big Beat Show" did two live performances at a high school in Kalamazoo, Michigan, featuring Jerry Lee Lewis, Chuck Berry, Frankie Lymon, Buddy Holly, the Diamonds, Billy Ford, Danny & the Juniors, the Chantels, Larry Williams, Screamin' Jay Hawkins, and the Pastels.
Also in 1958, the song "Witch Doctor" by David Seville topped the charts and stayed there for 3 weeks.
In 1959, the TV drama showcase, Hallmark Hall of Fame, featured one of the best plays on the air, according to critics. Eugene O'Neil's Ah, Wilderness starred a Who's Who of American performers including Lloyd Nolan, Helen Hayes, Burgess Meredith and Betty Field.
Also in 1959,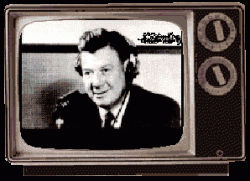 Arthur Godfrey was seen for the last time in the final telecast of Arthur Godfrey and His Friends on CBS-TV. The show had been a part of the network's daytime TV  lineup for 10 years, and it continued on CBS Radio for 13 years more.  We remember the Little Godfreys: Tony Marvin (announcer), singers Carmel Quinn, LuAnn Sims, Frank Parker, Janette Davis, Marion Marlowe and Julius LaRosa.
In 1960, Elvis Presley was in Los Angeles to record the pop hit from Germany "Wooden Heart."  It became a hit for Elvis in the UK, but was not released in the US as a single until late 1964, as the B side of "Blue Christmas."
In 1963, CBS-TV's Ed Sullivan Show originated from Toronto, and featured a sketch from Wayne & Schuster (below), more comedy from Jack Carter, plus the music of Connie Francis, Xavier Cugat & Abbe Lane, and operatic tenor Jan Peerce.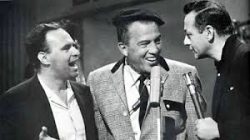 In 1963, music business publicist Andrew Oldham saw the Rolling Stones perform in London. The next day, the band members signed a contract making Oldham their manager. Their first official recording session took place within two weeks.
In 1964, at Wembley studios in England, The Beatles recorded the TV special "Around The Beatles." In addition to performing their songs, they played Act V, Scene 1 of William Shakespeare's "A Midsummer Nights Dream," with John in the female role of Thisbe, Paul as Pyramus, George as Moonshine, and Ringo as Lion.
Also in 1964, RCA Victor released Elvis Presley's next single "What'd I Say" b/w "Viva Las Vegas."
In 1965, at 3 p.m., Top 40 radio visionary Bill Drake took over KHJ-930 in Los Angeles, and introduced the 'Boss Radio' format, featuring the top hits of the day, quick jingles, fast DJ talk, and fewer commercials. Drake installed his protege Ron Jacobs as PD.  KHJ hit #1 within six months and was quickly copied across North America.
Also in 1965, Barbra Streisand's first TV special aired in prime time on CBS. It was titled "My Name is Barbra" and later won three Emmys.
Still  in 1965, Houston Astros play-by-play man Lindsey Nelson 
 broadcast a baseball game at the Astrodome from a hanging gondola.  Foster Hewitt could be heard to say (with a shrug of his shoulders) "so what??"
In 1966, producer George Martin began working on the instrumental track for The Beatles' "Eleanor Rigby," with four violins, two violas and two cellos.
Also in 1966, the No. 1 Billboard Pop Hit was "Good Lovin" by The Young Rascals. This was the first of three No. 1 songs for group, which later recorded as just The Rascals.
In 1967, Gary Lewis and the Playboys' #1 hit single "This Diamond Ring" was certified to be a Gold Record.
In 1968, actor Richard Harris spoke/sang "Didn't We" and "Camelot" on CBS-TV's "The Ed Sullivan Show. Ella Fitzgerald and the Doodletown Pipers also sang, while George Carlin and the team of Stiller & Meara delivered the comedy.
Also in 1968, the pioneering punk rockers The Seeds, who had a big hit in "Pushin' Too Hard," guest starred as a band named "The Warts" on the NBC-TV sitcom "The Mothers-In-Law."
In 1970, 
 the senior Ed Begley, actor, suffered a fatal heart attack at age 69. He'd been much in demand during the golden days of radio, playing Charlie Chan, a father on the NBC show of (Vancouver's) Alan Young, Myrt's husband on Myrt & Marge, & police lieutenants on The Fat Man & Richard Diamond Private Detective.  He appeared all over the dial in the early 'live' days of TV, with repeated gigs on Armstrong Circle Theatre, Justice, Kraft TV Theatre, Burke's Law, Gunsmoke, Leave it to Larry, Alcoa Hour, to name just a few.  He also won an Oscar for Sweet Bird of Youth on the big screen.
In 1973, comedian/actor Pat Henning, who made 9 standup appearances on CBS TV's Ed Sullivan Show, died at age 64.
Also in 1973, Pink Floyd's album 'Dark Side Of The Moon' went to No.1 on the Billboard chart. It went on to enjoy a record breaking 741 weeks, selling more than 20 million copies world-wide.
In 1974, the No. 1 Billboard Pop Hit was "Loco-Motion" by Grand Funk. This was the second time the song hit No. 1. The original 1962 dance version was performed by Little Eva. It was covered again in 1988 by Kylie Minogue, who took it to No. 3.
In 1975, John Lennon appeared as Tom Snyder's guest on NBC's late-late night "Tomorrow" " show, while Ringo guested in prime time on the "Smothers Brothers Show," singing his recent hit "The No-No Song."
In 1979, "Heart of Glass" by Blondie topped the charts 
 .. but stayed #1 for just a week.
In 1980, bassist Tommy Caldwell of the Marshall Tucker Band died at age 30, as a result of injuries sustained in a South Carolina car crash.
In 1982,  a committee of the California State Assembly heard testimony from "experts" claiming  that when "Stairway to Heaven" by Led Zeppelin was played backwards, it contained the words "I sing because I live with Satan."
In 1983, the No. 1 Billboard Pop Hit was "Beat It" by Michael Jackson. Eddie Van Halen played lead guitar on the tune.
In 1985, the little town of Parker Texas, not far from Dallas, reported a 2-to-1 edge in the ratio of tourists to residents. Some of the good citizens of the town of just over 1,000 residents were not pleased, either. Some 2,100 tourists each day converged on the town to visit Southfork Ranch, the home of the Ewing family of the CBS-TV hit, Dallas.
In 1986, for the first time, the compact disc of an album was released before its LP counterpart. "The Art of Excellence" by Tony Bennett, his first recorded work in a decade, produced by his manager/son Danny, went on sale.
In 1991, actor Ken Curtis,
 best remembered as Festus on TV's Gunsmoke, who also was featured in the series Yellow Rose, died after a heart attack in his sleep at age 74.
In 1994, the 100th episode of "The Simpsons" aired on FOX.
In 1999, actor Rory Calhoun died from complications of diabetes & emphysema at age 76. The star of the big screen began accepting TV assignments in 1954, and had feature roles in the series The Texan, Harris & Company, Capitol, The Blue & the Grey, plus dozens of guest spots.
Also in 1999, a study on the occurrence of drug references in movies and music was released by the Clinton Administration's top drug enforcement officials. The results?  27% of the most popular sound recordings from 1996 and '97 "contained a clear reference to either alcohol or illicit drugs."
Still in 1999, Tom Petty & The Heartbreakers (below) were honored with a star on the Hollywood Walk of Fame for their contributions to the music industry.                                                                                                                                                 
Again in 1999, members of the British band the Verve released a statement which claimed they "have mutually agreed to split."
In 2000, a fire damaged R&B legend James Brown's office in Augusta, Ga. It turned out to be no accident, as a week later investigators found a fire accelerant in several locations in the building.
Also in 2000, the final episode of the sitcom "Cosby" aired on CBS.
Still in 2000, comedian Jay Leno celebrated his 50th birthday as he received his own star on the Hollywood Walk of Fame.
In 2002, NBC taped the "Tonight" show's celebration of its 10th year with Jay Leno as host.
In 2003, CJLT-FM "Alive 99.5" signed on for the first time in Medicine Hat, Alberta with a power of only 48 watts.
In 2004, 60 Minutes II (CBS-TV) broadcast photos showing U.S. abuse of prisoners at Abu Ghraib prison in Iraq.
In 2006, attorneys for radio talk show host Rush Limbaugh,
who Florida prosecutors had accused of "doctor shopping" for painkillers, announced a plea bargain under which a single prescription fraud charge would be dismissed,  provided Rush stayed clean over the next 18 months and did not violate any laws.
Also in 2006, Abba star Bjorn Ulvaeus was accused of avoiding paying 87 million Swedish kronor ($12.8 million) in taxes on the band's hit songs and musicals. The Swedish government was demanding the money be paid. Abba sold more than 370 million records. and Bjorn also co-wrote the musical Mamma Mia.
Still in 2006, Ellen DeGeneres swept the Daytime Emmy awards, winning best talk show host for the second time and earning other talk show honors for the third consecutive year.
In 2007, saxophonist/assistant musical director on "The Tonight Show starring Johnny Carson," Tommy Newsom succumbed to bladder and liver cancer at age 78.
In 2008, Scott Weiland of the Stone Temple Pilots was sentenced to 192 hours in jail after pleading no contest to a DUI charge arising from his arrest on a L.A. freeway on-ramp the previous November. Weiland was also ordered to enter an 18-month alcohol-treatment program, and pay $2,000 in fines.
In 2009,
 longtime CBC sportscaster Ted Reynolds died after a long illness at age 84. He is best remembered for his TV work on swimming, show jumping and figure skating at 10 Olympic Games.
In 2010, singer Corrado "Connie" Codarini, a founding member of the Toronto-based Four Lads (There's Only One Of You, Put A Light In The Window, Standing On The Corner, No Not Much, Moments To Remember, Skokiaan, Istanbul) died at age 80.
In 2011, Fox News anchor Glenn Beck blasted an episode of the Fox TV show "Glee" in which the cast performed My Chemical Romance's anthem, "Sing." "I've watched it with a sense of horror, combined with a sense of admiring awe," said Beck of the musical comedy-drama. "Pay attention to the lyrics," he cautions. "This is propaganda."
In 2012,  Australia's Family Jewels, an exhibit about AC/DC, opened at the Experience Music Project Museum in Seattle.  The display featured 400 pieces of memorabilia related to the band and its 40-year history. 
In 2013, TV director Jack Shea, who directed 10 Bob Hope overseas Christmas specials and multiple episodes of such sitcoms as The Jeffersons, Silver Spoons and Sanford and Son, in a career that spanned 4 decades, died of complications from  Alzheimer's disease at age 84.
In 2014, Dr. Jack Ramsay,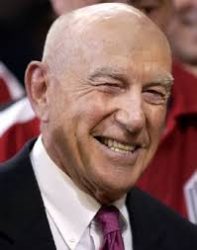 a 20 year NBA coach who became a key ESPN basketball analyst, lost a more-than-15-year battle with cancer and died at age 89. Ramsay led Portland Trail Blazers to an NBA championship in his first year of coaching them, 1976-77.
In 2015, Jack Ely, the former singer of the Kingsmen and the most famous voice behind the 1963 garage-rock hit "Louie Louie,"died at his home in Richmond, Oregon at age 71.
In 2016, 84-year old actress Barbara Bain of 'Mission Impossible' TV fame, was on hand to help unveil her new star on the Hollywood Walk of Fame.
In 2017, Sony Music sued Applebee's restaurant chain for the unauthorized use of AC/DC's "Rock And Roll Ain't Noise Pollution" in an advertising campaign. Applebee's claimed that they made the licensing payment to the third parties who set up the deal.
Today's Birthdays:
Actress-singer Ann-Margret (Third Watch, Four Corners, Scarlett) is 77.
Montreal-born singer Ginette Reno (Raynault) is 72.
Actor Paul Guilfoyle (CSI) is 69.
Former "Tonight Show" host Jay Leno is 68.
Alberta-born director/actor Stuart Gillard (90210, Bordertown) is 68.
Actress Mary McDonnell (Major Crimes, The Closer, Battlestar Gallactica) is 66.
Singer-bassist Kim Gordon of Sonic Youth is 66.
Actor John Pankow (Episodes, Mad About You, The Days and Nights of Molly Dodd) is 64.
Actress Nancy Lee Grahn (Santa Barbara, General Hospital) is 62.
Actress Cassandra Gava (General Hospital, Trapper John MD) is 59.
Rapper Too Short is 52.
Actress Kari Wuhrer (Sliders, Class of '96) is 50.
Singer Howard Donald of Take That is 50.
TV food show host/chef Bobby Deen (Not my Mama's Meals, Paula's Best Meals, Holiday Baking Championship) is 48.
Actress Simbi Khali (3rd Rock from the Sun) is 47.
Actor Chris Young (Married People, Max Headroom) is 47.
Actress Bridget Moynahan (Blue Bloods, Six Degrees) is 47.
Actor Jason Hall (Buffy the Vampire Slayer) is 46.
Rapper Big Gipp of the Goodie Mob is 45.
Actress Elisabeth Rohm (Law and Order, Angel, Bull) is 45.
Actor Jorge Garcia (Lost, Hawaii Five-Oh, Alcatraz, Becker) is 45.
Actress Penelope Cruz (American Crime Story) is 44.
Beauty stylist/socialite/TV personality Caroline Stanbury (Ladies of London) is 42.
Actor Nate Richert (Sabrina the Teenage Witch) is 40.
Vancouver-born twin TV personalities Drew & Jonathan Silver Scott (Property Brothers, Buying and Selling) are 40.
Actress/voicist Catherine Reitman (Family Guy, It's Always Sunny in Philadelphia) is 37.
Actress Jessica Alba (Dark Angel, Flipper)s 37.
Actor Harry Shum, Jr. (Glee) is 36.
Actor Michael Carbonaro (Guiding Light) is 36.
Model/actress Donna Feldman (Deal or No Deal, Fashion House) is 36.
Actor Brandon Baker (One World) is 33.
Actress Jenna Ushkowitz (Glee) is 32.
Actress Stephanie Corneliussen (Mr. Robot) is 31.
Actress/voicist Aleisha Allen (Blues Clues) is 27. 
Actor Tony Revolori (Son of Zorn) is 22.
Chart Toppers – April 28
1949
Cruising Down the River – The Russ Morgan Orchestra (vocal: The Skyliners)
Forever and Ever – Perry Como
Again – Doris Day
Candy Kisses – George Morgan
1958
Tequila – The Champs
All I Have to Do is Dream – The Everly Brothers
The Witch Doctor – David Seville
Oh Lonesome Me – Don Gibson
1967
Somethin' Stupid – Nancy Sinatra & Frank Sinatra
A Little Bit Me, A Little Bit You – The Monkees
I Think We're Alone Now – Tommy James & The Shondells
Lonely Again – Eddy Arnold
1976
Disco Lady – Johnnie Taylor
Let Your Love Flow – Bellamy Brothers
Right Back Where We Started From – Maxine Nightingale
Together Again – Emmylou Harris
1985
We are the World – USA for Africa
Crazy for You – Madonna
Rhythm of the Night – DeBarge Girls
Night Out – The Judds
1994
The Sign – Ace Of Base
Mmm Mmm Mmm Mmm – Crash Test Dummies
If the Good Die Young – Tracy Lawrence
2003
When I'm Gone – 3 Doors Down
Rock Your Body – Justin Timberlake
In Da Club – 50 Cent
Have You Forgotten? – Darryl Worley