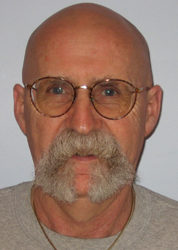 Sorry to hear from former Vancouver radio newsman Campbell McCubbin that a former CKWX/C-FUN/CKNW newsie John Stirling (pictured) is not well.  He suffered a major heart attack April 12, has already had one operation and is in hospital awaiting a second procedure later this week.
John's radio itinerary is documented below, as supplied by the very fine Vancouver Broadcasters website.
John Stirling – DJ CKKC/CFKC Nelson/Creston 1968-71; sports director/play-by-play BCJHL Chilliwack Bruins CHWK Chilliwack 1971-73; news CHQM Vancouver 1973-74; assistant sports director then news desk/beat reporter CKWX Vancouver 1974-79; news desk/beat reporter/producer Sunday-in-Vancouver CFUN Vancouver 1979-81; morning news CHNL Kamloops 1981; owner public relations company Stirling Consultants 1981; desk/beat reporter CKNW/CFMI-FM Vancouver 1985-88; retired from radio 1988; professional truck driver; Big Rigs trucking columnist Vancouver Province 2012-current  
Our very best wishes from all your friends at Puget Sound Radio for a full recovery, John, and our thanks to your wife Lorene for keeping us posted.