Sorry to have to report that a true Canadian country radio legend Bev Munro has passed away at age 89.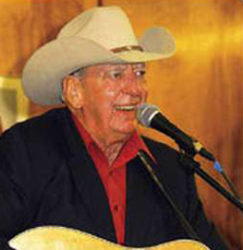 His career path started just 40 miles north of his hometown at CKX in Brandon, Manitoba, playing country music for fans. After a few years, he ended up at CFCW in Camrose, Alberta where he spent 30 years behind the microphone. As the morning host, he began the still-popular Mystery Artist Request Line and his famous Knee-Slapper jokes.
In 1959, Munro was named Mr. DJ USA, along with Ralph Emery, at WSM in Nashville, Tennesse, an honour that no other Canadian DJ has earned.
In his spare time, Munro played local dances and shows with his band, eventually scoring a recording contract with Capitol Records, with his first hit song being Hello Operator. His songs also became hits for R. Harlan Smith, Chris Nielsen, Hank Smith and Bill Hersh.
Although Munro had retired from radio, The Voice of CFCW still continued to MC shows, sing songs and keep people laughing with his humour. He also spent time on the road with the Alberta Country Music Legends.
We'll be awaiting word of a celebration of life or a service , and will pass it on.