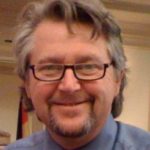 JJ-365 Salutes
April 1, 2018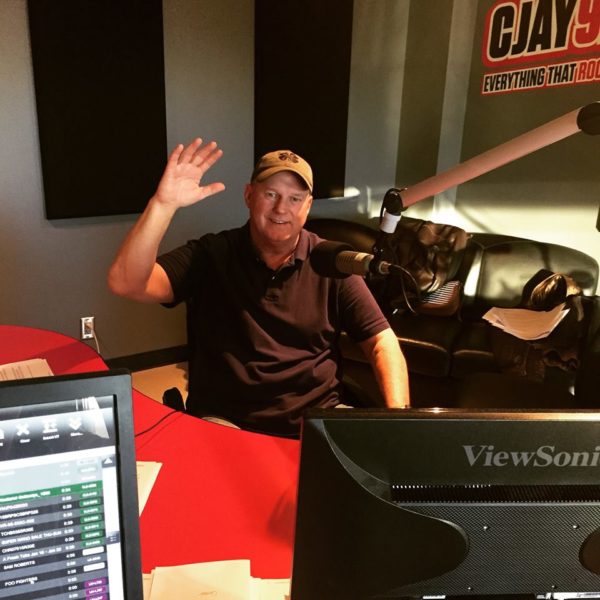 .
Welcome to JJ-365 Salutes. Over 2018, we pay tribute daily to one of "The Good Ones". Today we are shining the light on Gerry Forbes (Ger Forbsie).
I am so incredibility proud of this lad. This is going to be a long one. Where do I begin? I feel like a mosquito in a nudist colony: I know what to do, I just don't know where to get started.
"Always a going concern", "you never know what's gonna happen next", "always a surprise on the way", "never a dull moment", "never boring", guaranteed laughs, and on and on and on to describe Gerry Forbes.
Gerry, and brothers Gord Forbes and Marty Forbes all come by their radio success honestly. Their dad Jerry Forbes was the legendary and fabulously successful GM of CHED in the 60's and early 70's and was an amazing man.
He certainly passed on his mischievousness to all three of his sons, especially Gerry. Keith James told me a story about when he was Program Director of the CHED powerhouse in the late 60's, he was trying to get an American Express, and they kept saying no. He would saunter into Gerry's dad, his boss, saying he didn't understand why AMEX keep turning him down. Finally, Jerry Sr. said, "well, who are you using for references?" Keith's eyebrows went up, Jerry Sr. got up, left the room, and came back with a series of reference letters he had written on Keith's behalf. They all said something like "I've known Keith for a long time. He's a great guy. He's owed me $10,000 for the last 15 years. I know he's good for it and I'm looking forward to when he pays me back" etc.
Gerry Jr. got his start about the same time I did, although really, he started working at 13 for his dad at CHED. He never imagined having this long of a career.
His first gig was in 1975 in Kamloops, B.C. and then he moved back east working at CJJD-AM Hamilton. He wasn't sure the biz was for him and went to work for IBM. Gerry at IBM? I don't think so.
Shorly after he was back in the business on-air at CFTR where I first met and worked with him. After that Gerry went to work for brother Marty who was the Program Director at CHUM owned of course by the Waters family. Gerry started on-air in middays and then mornings. Changes occurred at CHUM and Gerry left in support of his brother/boss. Gary Dunford, long time and famous columnist with the Toronto Sun published Gerry's parting comment. "I left because blood is thicker than Waters." Zing!
The CHUM experience launched his morning show career leading him to Calgary where he has been pretty much been at CJAY for 25 years. That ends this Thursday March 29th, 2018 at 9am.
At CFTR, working for Reg Johns at first (and then Bill Gable), Gerry and I traded late night shifts and Ted Bird was our news partner. 'TR was doing a promotion called "Magic Mondays" where they were giving away bunches of cash every Monday as part of the BBM promotions at the time. Ger and I never really got to participate so we invented our own little personal promotion called "Terrific Tuesdays", a night that Ted, Gerry and I all had off each week. Craziness and extreme fun followed.
Gerry lived on Leslie Street in Don Mills in an apartment with Ted, and we lived not far away. I remember one time going over to their apartment and when I got out of my car I heard a splat? Then another, and then one hit my car. Gerry and Ted were welcoming me with a little egg splat salad from their 20th floor balcony.
We would either stay there and party, or Gerry, who was pretty much the mayor in town by then would lead us out. Whether it was being at the Jolly Miller on Halloween dressed up like goofy characters, or hitting the clubs downtown, we were always in tow with Gerry. Everywhere we would go women would be falling all over him, and anybody that was hanging out with Gerry had a good chance of having a few dances let's say. He learned early that if you want to be a successful broadcaster, you have to get to out there and get to know everybody, and he did this everywhere he worked. He went to just about every event there was, always talking about it on the air ("Da Forbser gonna be dere!").
When Gerry landed at CJAY in Calgary, as he says 'few knew who I was." That changed pretty quickly as he proceeded to own the town and he will continue to own that town until his last shift on Thursday. Come to think of it, with his legendary status he will own Calgary forever.
It was amazing the stuff that Jerry could get away with his boyish charm, his raucous and fun delivery and infectious laugh. Gary Slaight, Pat Holiday and Gary Russell were huge supporters through thick and thin.
Gerry was absolutely fearless and one of the greats. Ratings kicked in and everyone was trying to hire him. Each time approached he would tell his bosses and he got paid more, and more, and more. There are no tag days for Gerry.
I dropped by to see Ger last summer when I was in Calgary and had lunch with him and his lovely wife Shelley whom he proposed to in a newspaper article all those years ago. That's Ger. We had lots of laughs, there were lots of stories, and he told me of his intention to retire in March to spend more time with Shelley.
I'm not going to lie when I say I'll be a little misty when at 9 am central this Thursday, Gerry hangs up the cans. I guarantee you this will be one of the greatest broadcasts we will ever hear. You can stream the show live at http://www.iheartradio.ca/cjay92. GM Stew Meyers and PD Chad Martin I know will do it up right for him.
Gerry has been bringing along Jesse Modz & JD Lewis who will be taking over for him.
Says Jesse: "Gerry Forbes, plain and simple is one of the best people I have ever met…in and out of the broadcasting industry. It will be such an honor to sit across from him as he signs off the airwaves for the final time. Calgary and this industry is lucky to have had him as long as we did!"
Says JD: "Getting to work with the guy you grew up listening to is a pretty big thrill. Getting to learn from him, and have a front row seat to watch him do something people in the business almost never do, retire…man, that's been the coolest. Proud to call him a mentor, but even more importantly, a great friend."
Gerry's a one-of-a-kind, fearless, smart, fun and funny and will give you the shirt off his back. One time after talking to a SAIT broadcasting class, he announced that he was going for lunch at a nearby bar, and invited the class as his treat. Full meals and multiple beers were consumed by 20 hangry radio kids that day.
The achievement he's most proud of in his 25 years at CJAY 92 is the legacy of the radio station's Kids Fund, which has helped raise staggering funds for families that have been victims of house fires, domestic violence, car crashes, sudden deaths and more. "My dad started Santas Anonymous in Alberta to make sure every kid had a toy. He sat down with me one day and said, 'you could be funny or you could be a part of the community,' and I listened to the second part." Gerry plans to continue on at the station as an ambassador, keeping a focus on raising money for the Kids Fund.
Says pal and former co-host Bruce Barks Barker (a great free agent right now by the way): "I had the distinct pleasure of co-hosting with Gerry at CJAY. Not only did he teach me tons as it was my first major market morning show, his passion to help others was one of the main things that impressed me. We attended many fund-raising events together and his support of those in need in the Calgary area is second to none especially when it comes to kids. Gerry inspired me to be a better broadcaster and most of all a person giving back to the community."
Says Tina O'Connor: "In my opinion, Gerry Forbes is truly one of Calgary's Finest Gentleman, and he's worked hard (and smart) to get where he is today. He has been awarded the Queen's Diamond Jubilee Medal, Calgary's "Man of the Year", the "Outstanding Albertan Award", and has been FastForward's Media Personality of the Year for several years running.
Well Ger, you get to stay up late and if you ever have to get up early again, it will probably be because you are going for a pee. You did it Gerry, and you did it well. Thanks for making all of us, and our radio industry proud.
Congrats Gerry Forbes, the legend, on being one of "The Good Ones". Feel free to like and share Da Forbser's positive story.
Who is the subject of tomorrow's JJ-365 Salutes? Stay tuned!
Jim Jj Johnston is the CEO, President and Chief Talent Coach for JJIMS INC. and works with talent worldwide.