ON THIS DAY in 1899
inventor Guglielmo Marconi demonstrated the first international radio transmission between England and France.
In 1914, actor Richard Denning was born Louis Albert Denninger Jr, in Poughkeepsie NY.  He first hit the bigtime opposite Lucille Ball in CBS radio's My Favorite Husband.  Then he took over the "Mr." role on Mr. & Mrs. North, first on radio & then TV.  He had starring roles in two shortlived TV series, Flying Doctor & Karen, and was the State Governor for 12 years on CBS-TV's original Hawaii 5-0.  He died of cardiac arrest Oct. 11 1998 at age 84.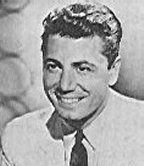 Also in 1914, singer Snooky Lanson was born in Memphis.  For seven years beginning in 1950 he was one of the stars of TV's Your Hit Parade.  Later he showed up on Five Star Jubilee, an NBC country music TV show out of Springfield Missouri. He died July 2 1990 at age 76.
In 1921, actor/writer/director Fletcher Markle was born in Winnipeg.   He started in Vancouver radio drama in the 1930's, at CJOR & the CBC with the likes of John Drainie, Lister Sinclair, Bernie Braden and Alan Young.  Moving to Toronto he wrote for the CBC Stage series, then on to New York where he produced and directed the prestigious CBS drama anthology Studio One on both radio and TV.  He moved into film direction, and returned to Canada to produce and host Telescope on CBC Television for more than six years.  He died May 23 1991 of heart failure, at age 70.
Also in 1921, announcer Fred Foy was born in Detroit.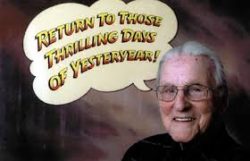 Although best remembered as the iconic announcer/narrator on The Lone Ranger on both radio & TV (1948-54), he also had high profile gigs as the announcer on ABC Radio's Theatre Five, and ABC-TV's Dick Cavett Show.  He died Dec 22 2010 at age 88.
In 1930, history has it recorded that the first U.S. ship-to-shore broadcast took place.
In 1934, singer Sarah Vaughan (below) was born in Newark New Jersey. She developed her vocal style through her association in the 1940's with the form of jazz known as bebop. Vaughan's first major pop hit was 1954's "Make Yourself Comfortable," and her biggest chart success was her 1959 "Broken-Hearted Melody." Vaughan died of lung cancer April 3rd, 1990 at age 66.

In 1942, the radio serial "Myrt & Marge" ended its 11-year run on CBS.
In 1943, Blue Ribbon Town was first heard on CBS radio. The show lasted only a year, but it became widely known as the program that introduced radio audiences to the one, the only, Groucho Marx.
In 1945, Ella Fitzgerald and the Delta Rhythm Boys recorded their classic version of "It's Only a Paper Moon" for Decca Records.  And Perry Como, still looking for his first #1 hit song, recorded the 1933 dramatic ballad, "Temptation."
In 1947, 'western swing' singer Tex Williams recorded his biggest hit, the novelty song "Smoke! Smoke! Smoke! That Cigarette," which became Capitol Records' first million-seller. It reigned as #1 on the pop charts for six weeks that summer.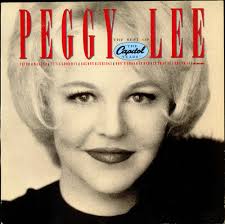 In 1948, the No. 1 Billboard Pop Hit was "Manana (Is Good Enough for Me)" by Peggy Lee.
In 1950, pianist Erroll Garner became one of the first jazz instrumentalists to give a solo concert. He played the Music Hall in Cleveland, OH. In 1954, Garner would gain international applause for writing and recording a standard that has been presented many times since: Misty.
In 1951, Frank Sinatra recorded I'm a Fool to Want You for Columbia. This was one of the last songs Sinatra recorded for Mitch Miller, who had taken over as head of recording for the label, and it peaked at #14 on the singles chart that summer.
In 1952, Sun Records of Memphis headed by Sam Phillips, began releasing records. In the next 5 years Phillips would find & record Elvis Presley, Jerry Lee Lewis, Johnny Cash & Carl Perkins.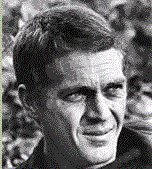 In 1955, Steve McQueen made his network TV debut on Goodyear Playhouse. The drama was called 'The Chivington Raid.' By 1958, McQueen was starring in his own TV series, Wanted Dead or Alive, about bounty hunter Josh Randall, on NBC.
In 1958, CBS Laboratories announced a new stereophonic sound recording that was compatibly playable on ordinary LP phonographs, meaning, monaural. In stereo, on the proper equipment, a new rich and fuller sound was heard. It soon became the standard for record and equipment buyers.
Also in 1958, Sheb Wooley recorded his one-hit-wonder, "The Purple People Eater."
In 1959, the star of "The Mickey Mouse Club," Annette Funicello appeared on ABC TV's "American Bandstand" and lip-synched to "Tall Paul" and "Jo-Jo the Dog Faced Boy."

In 1960, 15-year-old Brenda Lee recorded her first #1 hit song, "I Want to Be Wanted."
In 1961, Jack Kane, one of Canada's leading arrangers and conductors, died in Toronto of cancer at age 36. After beginning with the CBC, Kane had been musical director for US TV series starring Steve Lawrence and Eydie Gorme, and Andy Williams.
In 1962, at the Radio Recorders studios in Hollywood Elvis Presley taped his future hits "Return To Sender" and "Girls! Girls! Girls!"  Boots Randolph played saxaphone on the session, while Barney Kessel was featured on guitar.
In 1964, radio station CJAV survived six huge waves striking Port Alberni as a two-storey wall of water devastated the BC mill town.  The tsunami was the result of an 8.5 magnitude earthquake in Alaska, destroying 58 buildings at Alberni, damaging another 350, and leaving 300 cars as write-offs.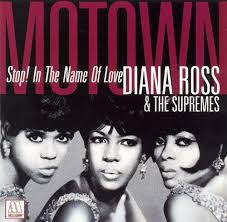 In 1965, "Stop! In the Name of Love" by the Supremes topped the charts, the group's 4th No. 1 hit.
Also in 1965, British rocker PJ Proby, famed for splitting his skin-tight trousers during performances, was ordered off the stage at a municipal ballroom in Hereford, England. A local politician's wife called Proby's act disgusting and obscene.
In 1966, while on a UK tour Roy Orbison fell off a motorbike as he rode through Birmingham's Hawkstone Park, suffering a fractured foot. He was forced to play his remaining tour dates sitting on a stool and walking on crutches.
In 1967, the Rolling Stones were pelted with bottles, chairs and fireworks during a concert at Halsingborg, Sweden.
Also on this date in 1967, John Lennon and Paul McCartney received a British music industry award for the most-performed song of the year — "Michelle."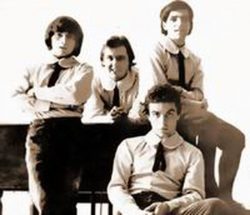 Still in 1967, the Young Rascals recorded their second #1 chart topper "Groovin'."
In 1968, Grapefruit, a band managed by John Lennon, opened for the Bee Gees at London's Royal Albert Hall.  Despite the backing of the Beatles' Apple Corps Limited, Grapefruit remained obscure.
In 1970, Ringo Starr released "Sentimental Journey," his first solo album, produced by the man behind the Beatles' recordings, George Martin.
In 1971, Janis Joplin started her second (and final) week at the top of the pop music charts with the hit, 'Me and Bobby McGee,' written by Kris Kristofferson.
Also in 1971, Brewer and Shipley's "One Toke Over the Line" was banned by WNBC in New York. Despite similar bans elsewhere, the record reached number 10 on the Billboard pop chart.
In 1972, Elvis Presley recorded "Burning Love." It would turn out to be his last major hit.

In 1973, police found marijuana, LSD, cocaine and prescription drugs in a suitcase, after stopping a car driven by Jerry Garcia of the Grateful Dead on a freeway near Philadelphia.
Also in 1973, this was Oscar night (for the 45th time) with hosts Carol Burnett, Michael Caine, Charlton Heston and Rock Hudson. Most people, when offered an Academy Award, can't get up to the stage fast enough to claim the little gold guy. But, Marlon Brando (below) said, "You can keep it," when offered the Oscar for Best Actor for his performance as The Godfather. Brando refused to accept the award because he felt that the U.S. and Hollywood were discriminating against American Indians. The Godfather also won the Oscar for Best Picture. The Best Music/Song prize went to Al Kasha and Joel Hirschhorn for The Morning After from The Poseidon Adventure.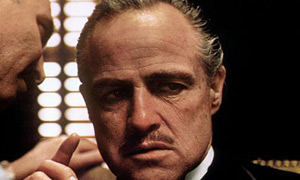 In 1974, the No. 1 Billboard Pop Hit was "Sunshine on My Shoulders" by John Denver. The song was used as the title theme to an NBC-TV movie during the 1974-75 season.
Also in 1974, singer/songwriter Ray Stevens released his second #1 pop hit, "The Streak."
In 1976, Abba released their next hit single "Fernando".
In 1977, actress Diana Hyland, who had just assumed the role of the mother on the new ABC TV series Eight is Enough, died of breast cancer at age 41.
In 1979, Bruce Springsteen's first video, "Rosalita," premiered on BBC-TV.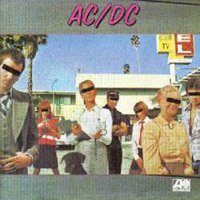 In 1981, AC/DC released "Dirty Deeds Done Dirt Cheap."
In 1982, the song Take Off, by Bob & Doug McKenzie (Rick Moranis & Dave Thomas from SCTV) with Geddy Lee of Rush on vocals, topped out at #16 on the pop singles chart.
In 1984, the No. 1 Billboard Pop Hit was "Footloose" by Kenny Loggins. The title song to the film starring Kevin Bacon was nominated for an Academy Award.
Also in 1984, Cyndi Lauper (below) released "Time After Time."

In 1985, actor Billy Dee Williams was on hand to help unveil his star on the Hollywood Walk of Fame. His spot, for those looking to visit, is located between Joan Davis and Harry Carey.
In 1986, heavy metal band Van Halen played its first show with Sammy Hagar as lead singer in Shreveport, Louisiana. Hagar was replacing David Lee Roth.
In 1987, the No. 1 Billboard Pop Hit was "Lean on Me" by Club Nouveau. Bill Withers had taken the song to No. 1 for three weeks in 1972.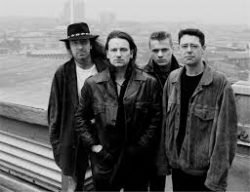 Also in 1987, the Irish rock group U2 filmed the video for "Where The Streets Have No Name" on the roof of Republic Liquors in downtown Los Angeles. Thousands of people showed up and police had to break up the shoot.
In 1988, Tina Turner gave what was billed as her final live performance — but turned out not to be — in Osaka, Japan. It included a surprise duet with Mick Jagger on "Honky Tonk Woman."
In 1989, the first "half-black" soap opera, "Generations" debuted on NBC-TV.
In 1991, New Kids on the Block lead singer Donnie Wahlberg was charged with first-degree arson over an incident at a Louisville, Kentucky hotel. Wahlberg allegedly poured a flammable liquid on a hallway carpet and set it on fire during an argument with a young boy's mother. In return for not being jailed as a result, Wahlberg agreed to videotape public service announcements on fire safety, drug abuse and drunken driving.
In 1992, in the Detroit suburb of Auburn Hills, as part of U2's Zoo TV Tour, Bono ordered 10,000 pizzas from a local pizzeria. An hour later just 100 pepperoni pizzas were delivered. Still, each of the three delivery guys got a $50 tip.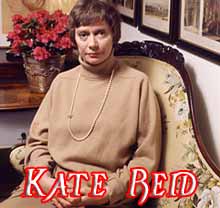 In 1993, Canadian actress Kate Reid, who played many demanding roles on CBC Radio & TV, & who was cast as Lil in the prime time TV soap Dallas, lost her battle with brain cancer at age 62.
In 1995, legal warfare broke out over Eazy-E's (Eric Wright's) assets, only a day after the rapper died of AIDS. His business partner and record label (Ruthless Records) sued the performer's wife and two lawyers, charging them with illegally claiming control of the label.
Also in 1995, David Letterman was host for the 67th Annual Academy Awards at the Shrine Auditorium, Los Angeles.  The Best Picture was Forrest Gump, which also won Oscars for Best Director (Robert Zemeckis) and Best Actor (Tom Hanks.) The Best Music/Song Oscar went to Elton John and Tim Rice  for the fine job they did for the animated movie, The Lion King, with the song, Can You Feel the Love Tonight.
In 1996, Vancouver's CFUN 1410 dropped its "Favourites of Yesterday and Today" format to go all talk under the slogan "Talk with Attitude".

In 1997, an Ottawa autograph session with the Backstreet Boys turned to chaos. Five-thousand screaming fans packed a downtown shopping mall to see the teenybopper group. The event was moved to the nearby Congress Centre, where police struggled to keep order. About two-thousand fans were finally allowed to shake hands with the five-member group.
In 1998, Alice Cooper broke ground for Cooper's Town, the 50-year-old rocker's sports- and rock'n'roll-themed restaurant and bar, to be built three blocks from the Arizona Diamondbacks' baseball stadium.
In 2001, singer Christina Aguilera signed a lucrative sponsorship deal with Cola-Cola, only a month after Britney Spears had signed a deal to promote Pepsi.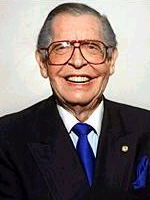 In 2002, comedian & TV pioneer Milton Berle died at age 93.  Known as Uncle Miltie and Mr. Television, Berle rose to TV stardom as the host of NBC's Texaco Star Theater beginning in 1948.
That same day, actor Dudley Moore died from a rare brain disorder at his home in Trenton, New Jersey. He was 66. Also that day, Hollywood filmmaker Billy Wilder died in Los Angeles at the age of 95.
Also in 2002, singer Lyle Lovett was trampled by a bull while trying to help his uncle who had just been thrown by the animal at his ranch outside Houston. Lovett's lower right leg was broken in two places, and he fractured a thumb.
Still in 2002, 80-year old Rodney Dangerfield was on hand to help unveil his star (for Motion Pictures) on the Hollywood Walk of Fame.

In 2003, John Lennon's boyhood home at 251 Menlove Avenue in Liverpool where he lived with Aunt Mimi, and where he put up posters of Elvis and Bridget Bardot in his bedroom, was opened to the public as a tourist attraction.
In 2006, Campbell River BC's CFWB-AM added Southern Rock to their mostly Country format, becoming known as "14-90 The Ride". By the end of 2008 it had flipped to 99.7 FM "The River" with an Adult Contemporary sound.
Also in 2006, Elvis Presley's famed home in Memphis, 'Graceland' was designated as a US national historic landmark.
In 2007, Jefferson Airplane/Starship vocalist Grace Slick sued former bandmate Paul Kantner for touring with different musicians under the name "Paul Kantner's Starship."

In 2008, Leona Lewis became the first British woman to top the Billboard pop chart in more than 20 years with her hit single 'Bleeding Love.'
In 2009, Irving R. Levine, for 45 years the bow-tied NBC correspondent, died of prostate cancer at age 86.  He covered the Cold War from Moscow, and for the last 25 years with the network was on the economics and business news beat.
In 2010, Q Magazine hit the newstands with a list of the top frontmen of all-time as selected by its readers. Oasis' Liam Gallagher was voted #1, beating out Bono, Freddie Mercury, Jim Morrison and John Lennon.

In 2011, at the Juno Awards in Toronto Neil Young took home Artist of the Year honours. It was his first appearance at the Canadian event in 29 years.
In 2012, veteran character actor Warren Stevens, who appeared in many live TV dramas of the 1950's, and was featured in the series Bracken's World, The Richard Boone Show, Bonanza, Star Trek, Have Gun — Will Travel and Mannix, succumbed to lung disease at age 92.
In 2013, writer/editor Paul S. Williams, known as the godfather of modern rock journalism, died after a long battle with dementia which set in as a result of a serious 1995 bicycle accident.  He was 64.  In 1966 he founded the pioneering music magazine Crawdaddy! just months before the Rolling Stone.
Also in 2013, Gordon Stoker, leader of the Country Music Hall of Fame vocal quartet The Jordanaires, died at age 88 after a long illness.  His high tenor vocals graced thousands of significant recordings by Elvis Presley, Patsy Cline, Jim Reeves, Loretta Lynn, and Rick Nelson, among many others.
In 2014, Fleetwood Mac appeared on NBC's Today Show to officially announce the return of singer/keyboardist Christine McVie (pictured). She left the group 16 years earlier due to a fear of flying.
In 2015, Hot Rod Hundley, the former NBA player who broadcast more than 3,000 Jazz games in New Orleans and Utah over 35 years (1974-2009), died of complications from Alzheimer's at age 80.
Also in 2015, Adam Horovitz (a.k.a. Ad-Rock) of the Beastie Boys made his first 'solo' TV appearance on NBC's Tonight Show starring Jimmy Fallon.
In 2016, 
 Eric Engberg, for 27 years a political correspondent and investigative reporter for CBS News, who developed one of the first fact-checking segments in broadcast news, died at his Florida home at age 74.
Also in 2016,  Dr. Toni Grant, one of the first voices in radio psychology and a staple of Los Angeles' 1970s and '80s pop culture, died at age 73.  In the early 1980's her show was syndicated nationally on more than 100 stations.
In 2017, Chelsea Brown, a dancer and actress who brightened "Rowan & Martin's Laugh-In" on NBC-TV, and later found success performing in Australia, died in Chicago of pneumonia at age 69.
Also in 2017, Arthur Blythe, one of the most daring and acclaimed jazz saxophonists of the 1970s and '80s, died of complications from Parkinson's Disease at age 76.
In 2018, the sitcom Roseanne returned to ABC Television.
Today's Birthdays:
Actor Julian Glover (Game of Thrones, Dr. Who, The Avengers) is 83.
Actor Jerry Lacy (Dark Shadows, Love Of Life) is 82.
Actor Austin Pendleton (Oz, Homicide: Life on the Street) is 78.
Actress June Wilkinson (Batman TV) is 78.
Actor/voicist Michael York (The Simpsons, Gilmore Girls, Knots Landing) is 76.
Keyboardist Tony Banks of Genesis is 68.
Seattle-born actress Pamela Roylance (Jack & Bobby, Little House on the Prairie, Days of Our Lives) is 66.
Actor Stephen Dillane (Game of Thrones) is 61.
Actor Brian Tarantina (The Black Donnellys, One Life to Live) is 59.
Keyboardist-guitarist Andrew Farriss of INXS is 59.
Calgary-born singer Jann Arden is 56.
Saxophonist/radio & TV host Dave Koz (Smooth Jazz Network, Frequency) is 55.
Actress Paula Trickey (The O.C., Pacific Blue, Santa Barbara) is 52.
Actress Talisa Soto (Harts of the West) is 51.
Actress Sandra Hess (General Hospital, Pensacola: Wings of Gold) is 50.
Actress Pauley Perrette (NCIS, Time of Your Life) is 49.
Actor Kevin Corrigan (Public Morals, Grounded for Life, The Mentalist) is 49.
Actress Francie Swift (Hostages, Gossip Girl) is 49.
Singer Mariah Carey is 48.
Drummer Brendan Hill of Blues Traveler is 48.
Actress Elizabeth Mitchell (Revolution, Lost, ER) is 48.
Edmonton-born actor Nathan Fillion (Castle, Modern Family, Firefly, One Life to Live) is 47.
Actor Bernard Curry (Faking It, Wentworth Prison) is 44.
Model/actress Nichole Galicia (Defiance) is 43.
Singer Fergie of Black Eyed Peas is 43.
Actress Louise Brealey (Sherlock, Ripper Street) is 39.
Actress Emily Ann Lloyd (Something So Right, Knots Landing) is 34.
Actor Blake McIver Ewing (The People's Couch, Full House) is 33.
UK actress Holliday Grainger (The Borgias) is 30.
Actress Kerri Ann Darling (Another World) is 30.
Actress Brenda Song (The Suite Life of Zack and Cody) is 30.
Singer Jesse J is 30.
Singer Kimbra is 28.
Actress Taylor Atelian (According to Jim) is 23.
Actress Rosabell Laurenti Sellers (Game of Thrones) is 22.
Vancouver-born actress Natasha Calis (Ties that Bind, The Firm) is 19. 
Windsor Ont.-born actress Sophie Nélisse (Vertige, Les Parent) is 18.
Chart Toppers – March 27
1944
Besame Mucho – The Jimmy Dorsey Orchestra (vocal: Bob Eberly & Kitty Kallen
Mairzy Doats – The Merry Macs
Poinciana – Bing Crosby
So Long Pal – Al Dexter
1953
Till I Waltz Again with You – Teresa Brewer
Don't Let the Stars Get in Your Eyes (facts) – Perry Como
Pretend – Nat King Cole
Kaw-Liga – Hank Williams
1962
Hey! Baby – Bruce Channel
Don't Break the Heart that Loves You – Connie Francis
Dream Baby – Roy Orbison
She's Got You – Patsy Cline
1971
Me and Bobby McGee – Janis Joplin
Just My Imagination (Running Away with Me) – The Temptations
Proud Mary – Ike & Tina Turner
After the Fire is Gone – Conway Twitty & Loretta Lynn
1980
Another Brick in the Wall – Pink Floyd
Working My Way Back to You/Forgive Me, Girl – Spinners
Him – Rupert Holmes
Why Don't You Spend the Night – Ronnie Milsap
1989
The Living Years – Mike + The Mechanics
Eternal Flame – Bangles
Girl You Know It's True – Milli Vanilli
New Fool at an Old Game – Reba McEntire
1998
Frozen – Madonna
Gettin' Jiggy Wit It – Will Smith
Nice & Slow – Usher
Nothin' but the Taillights – Clint Black
2007
It's Not Over – Daughtry
What Goes Around… Comes Around – Justin Timberlake
The Sweet Escape – Gwen Stefani featuring Akon
Ladies Love Country Boys – Trace Adkins