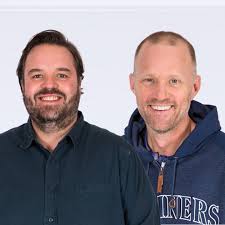 courtesy AllAccess.com   March 20 2018
iHEARTMEDIA Sports KJR-A/SEATTLE is shuffling its lineup, with the musical chairs sending midday "CHUCK & PUCK" co-host CHUCK POWELL to mornings with former SEATTLE MARINERS first baseman/DH BUCKY JACOBSEN as "CHUCK AND BUCK IN THE MORNING."  While JASON PUCKETT will continue the midday show (1 – 3 pm) as "THE JASON PUCKETT SHOW," current morning host DICK FAIN will move to afternoons as co-host with incumbent DAVE "SOFTY" MAHLER.  The changes take place MONDAY (3/26).
"I couldn't be more excited for this new era at SPORTS RADIO 950 KJR," said iHEARTMEDIA SEATTLE SVP/Programming RICH MOORE. "We just got bigger and stronger today. We added depth for compelling sports talk, knowledge, and aligned our strong personalities to be SEATTLE's strongest local Sports Talk station."
6am-10am Chuck Powell & Bucky Jacobsen
10am-1pm Jason Puckett & Mike Gastineau (The Gasman is here for three months only)
1pm-3pm Ian Furness
3pm-630pm Dave Mahler & Dick Fain
Mike Gastineau returns temporarily to the site of past glories, where he dominated afternoon sports radio for several decades until his "retirement" in 2012.
Dick Fain was plugged into the KJR morning show after the very talented Mitch Levy was turfed from his longtime home (23 years) on the morning show after he was caught in a prostitution sting last September.  Many KJR faithful had been hoping today's shakeup would see Mitch brought back.
Read columnist Art Thiel's take on Gastineau's return to KJR  HERE.