Shep Smith Has the Hardest Job on Fox News
In a Manhattan Fox News studio on a recent Tuesday in February, Shepard Smith sits ready to begin taping his 3 p.m. newscast. He's spent the preceding hour typing out edits to his script with slightly hunched posture, raising his eyebrows at his keyboard and reading his monologue to himself to test its accuracy and its cadence. The computers behind him—clad in giant white shells, they look like robots from the Star Wars universe—are each manned by researchers. Several of them are scanning their email and news sites, one is looking at @realdonaldtrump on Twitter. And Smith, wired with an earpiece to the control room, is periodically issuing commands—to those researchers, to the producers who call his desk phone, to the air around him. "We need to get a statement from Israeli police," he says, looking to bulk up a wire report about Benjamin Netanyahu. "That'll give the Jerusalem bureau something to do."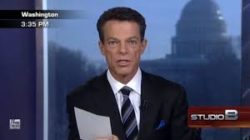 .
When the countdown to Smith's hour of airtime arrives at 2:59, it's just a number. Smith silently sits at his anchor chair, watching White House Press Secretary Sarah Huckabee Sanders field questions from reporters in what's become a near-daily occurrence: his show is getting pre-empted by the most popular political drama in America. He scrolls through his phone, then leans forward on his elbows ready for Sanders to wrap. When she does, he kicks off his show a few minutes late with discussion of the "brand-new timeline" Sanders offered for the scandal of the day. Much of his script now useless, Smith does the work of writing and editing as he speaks.
The president has scrambled the day-to-day lives of everyone in the news business, not least of which those at the network with which Donald Trump begins every morning. As Fox has tacked further to the right in its opinion programming, Smith's role has at times seemed like a challenge. Being the old-fashioned anchorman and reporter at a network known for new-fashioned provocation and opinion may be the hardest job at Fox News, and one Smith mused about walking away from over the course of two interviews this winter. On March 15, the network announced Smith would stay and that he had signed a multiyear contract renewal. Which means Smith is going to have many more chances to tell viewers what they don't want to hear.

.
"I can remember a time," the 54-year-old anchor says after taping has wrapped at 4 p.m., "when we would do a rundown in the morning and, probably, that's what would happen." Those around him are feeling the Trump era as well. "I'm tired," says Kim Rosenberg, the network's vice-president of news and Smith's producer and friend. "The news cycle goes through many evolutions during the day. Trump will tweet or they'll add a news conference or the White House briefing will be pushed back three times, and the news cycle changes."
Now, his show is often eaten into by the White House's televised press briefings. "Even now, it still boggles my mind that the next time Sarah Huckabee Sanders is on, over a year into a presidency, that it is something that all three networks will take live," says Jay Wallace, the network's president of news since 2017 and Smith's former executive producer. "That's unheard-of." Having hustled in his early career and established his bona fides as an anchor after that, Smith would seem to be at a point where he could enjoy the status, visibility, and routine schedule a marquee anchor enjoys. Instead, Sanders, and her boss, have created a climate of uncertainty that's forced Smith to improvise.
READ THE REST OF THE STORY  HERE  AT THE TIME MAGAZINE WEBSITE