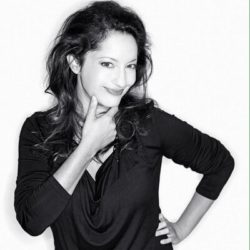 As reported by the Northwest Broadcasters site, Heather Backman joins The Q! 100.3 Victoria as its new afternoon co-host with Ryan Awram.  She was most recently a part time traffic reporter at KNX 1070 in Los Angeles and was previously morning show co-host at CHOM-FM 97.7 Montreal for five years before a Bell Media layoff in early 2017.
Here's how Heather notified her fans via Instagram:
I don't know where to begin but let me start by saying this announcement is bittersweet. I've decided to leave my loved ones in LA for a job in the beautiful city of Victoria, BC.
Last year has been a whirlwind of emotions. I lost my dream job, moved to Chattanooga, TN. Traveled a lot and finally came home to LA. In LA I had an amazing opportunity to work at the legendary @knx1070 which I'm extremely thankful for. I needed to come home, surround myself with the people who love and support me the most and find myself again. I didn't just lose my job, I lost my identity and life purpose as well. That tends to make you question everything! What have I done with my life? Why did I choose such a difficult career path? Was a job worth living away from my family and friends? Is it time to move on and give up radio for good? One day I woke up and was ready to just move on. To what? I had no idea. I just knew that I would know it when I found it. 
A few weeks later, I was offered an awesome radio job in BC! I'm thrilled to say that starting March 12th, I'll be the new Afternoon drive Co-Host on Q100.3 FM! I am so excited to get back on the air and do what I'm most passionate about. I get to do a job I love, in One of the most gorgeous cities in North America and stay on the West Coast, close to home.
I can't thank you all enough for all of the love, support and kind words that have come my way this past year. My life in Montreal will always hold a special place in my heart.
Merci beaucoup! Je vous aime tous ❤