JJ-365
February 25, 2018
Welcome to JJ-365 Salutes. Over 2018, we pay tribute daily to one of "The Good Ones". Today we are shining the light on Glenn Chalmers. Where do I start with this fellow?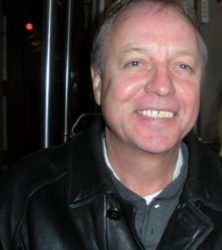 I first met Glenn at Moffat Communication's' annual Moose Jaw ball tournaments. Teams would bus or fly in from each market. It was a great way for local and extended teams to get to know each other better, build better teamwork etc. One of the quickest ways to build trust with coworkers is to discover together what you have in common. The more you have to talk about the better you connect.
Glenn was the retail sales manager in Vancouver for both CFOX and CKLG and the uber yappy pitcher for the Vancouver ball team contingent. He drove us all crazy with his constant repartee and barrage of good natured and poignant insults. He was very good at getting under our collective skins when he was, as he called it, "putting some shit on the ball".
We were so pent up on beating him and his team, and I couldn't wait to bat each time, something he recognized in me. I am guessing this how he chose me to receive a pitch featuring the dreaded white painted grapefruit which looked just like a softball. Glenn gets me going with "want me to put some shit on the ball" and I said, "bring it on big boy." I swung with everything I had which of course resulted in a pulpy mess and tons of laughter. If that was a real ball I don't think it would have landed yet.
And then there was a time at a tourney when Ross Winters and I were in the swimming pool when Glenn, from the second floor dropped a chair that expertly landed in the water right in between Ross Winters and myself.
We were so trying to pay him back for his antics that we snuck into his room to perform the usual gag fixings like red dye in the shower head, saran wrap on the toilet seat and had a garbage bag full of water hooked up so that soon as he opened up the door he would be instantly drenched. We were waiting with baited breath and skulking around to see our magic happen. The word was out: Glenn was going up to his room. We hightailed it to his floor and just happened to be casually walking down the hall, Glenn came by and said, "have you had enough shit on the ball?", more trash talk and then he walked into a different room than the one we had gussied up. We never did find out who had that room, but I am sure that customer was not delighted.
Fast forward to my arrival in Vancouver as CFOX Program Director working for the incredible Alden Diehl. I got a nice welcome from everyone including Glenn (which made me a little nervous. What did he have up his sleeve?). Many gags of course. One time the Ellwood brothers were in my office for a meeting and we were chatting it up. Rich who is a great comedic talent, was the owner of the local comedy club and also the man behind the Kokanee Comedy Hour which ran on Sunday nights on the FOX. In comes Glenn, he slams the door shut, sits down and proceeds to berate the Ellwood brothers for not paying enough for their advertising. It was a little tense until they all broke out laughing and then I realized once again that I'd been had.
We all moved around here and there and Glenn and I ended up working back together for Gary Slaight in the Standard Radio organization. Glenn was the long time and very successful sales manager at Z95.3. He was absolutely fearless, and Gary and he had lots of fun with each other. Glenn is the kind of guy who can say things that could get you and I in trouble, but not him, because it was always good-natured fun punctuated by his infectious laugh. I don't think there is a more fun guy on the planet and people loved working for him. Glenn was a hell of a manager, and a great trainer and after Gary sold, became the VP of Western Sales and sales trainer nationwide for Astral. He is a lovable brat but inside there is a guy who had your back and a good ear when you needed to talk.
Glen's wife Lori Chalmers was also very successful holding major positions like Director of Sales for Pacific Newspaper Group, and publisher of Western Living and Vancouver magazine, and the Richmond News & Delta Optimist.
A lot of people have been touched by this, shall we say, touched one. In his case thank god they broke the mold-
?.
Glenn and Lori are retired and have two great grown up kids in Amy and Stephen. When not travelling to the desert or around the world, and continuing to donate time to their communities, they live the life in White Rock, British Columbia.
I think of that MTV commercial where the father is telling the son about his antics growing up and ends up saying "There is no more fun son, we had it all" I think that could have been Glenn chatting with his kids!
Congrats Glen Chalmers, the legend, on being one of "The Good Ones". Feel free to like and share Glen's positive story. Who is the subject of tomorrow's JJ-365 Salutes? Stay tuned!
Jim JJ Johnston is the CEO, President and Chief Talent Coach for JJIMS INC.
J.J.'s bio, courtesy of VancouverBroadcasters.com
J.J. Johnston – Board operator CKLC Kingston ON 1974-75; midday host CJET Smiths Falls ON 1975; morning hostCKOB Renfrew ON 1975-76; nights CFCH North Bay ON 1976-77; evenings CFGO Ottawa and part time CKLW Windsor ON 1977-79; swing CFTR  Toronto 1979-81; p.m. drive/mornings/ssistant PD CITI-FM Winnipeg/Jet's hockey broadcaster at CKY Winnipeg 1981-86; PD CHAM Hamilton ON 1986-88; national PD Moffat Communications/PDCFOX-FM/CKLG Vancouver 1988-93; national rock PD WIC Communications/CFMI-FM Vancouver 1993-94; VP programming Standard Radio/CKFM-FM Toronto 1994-2000; GM Corus Radio cluster Toronto 2000-05; GM Corus Radio (CFMI-FM/CFOX-FM/CHMJ/CKNW) Vancouver 2005-10; regional GM then contract consultant Corus Radio East – Barrie/Collingwood/Peterborough/Kingston/Cornwall ON 2013-current; President/CEO, JJ international Media and Management Solutions Ontario 2013-current; Interim GM CJPE-FM Prince Edward County ON 2013-current.  LinkedIn profile