Graham, who long suffered from cancer, pneumonia and other ailments, died in North Carolina on Wednesday
by Thomson Reuters, courtesy CBC News                   Feb 21, 2018 
.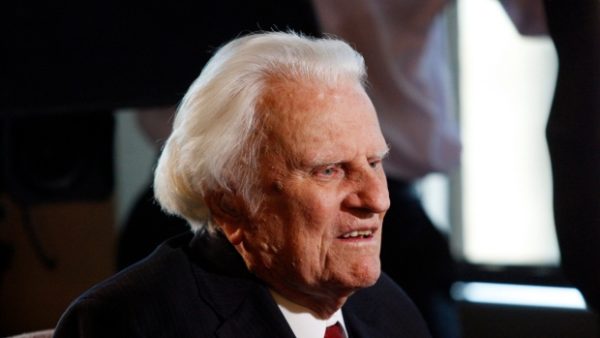 Billy Graham, who long suffered from cancer, pneumonia and other ailments, died at his home in North Carolina on Wednesday morning, a spokesperson said. He was 99. (Nell Redmond/The Associated Press)
Billy Graham, known as America's Pastor for his work with presidents and one of the most widely heard Christian evangelists in history, has died at age 99.
Graham counselled presidents and preached to millions across the world from his native North Carolina to communist North Korea during his 70 years on the pulpit. He died on Wednesday morning at his home in Montreat, according to a spokesperson for the Billy Graham Evangelistic Association.
The Southern Baptist minister, who provided special counsel to presidents from Harry Truman to Barack Obama, long suffered from cancer, pneumonia and other ailments.
Over his lifetime, Graham reached more than 200 million through his pioneering use of prime-time telecasts, network radio, daily newspaper columns, evangelistic feature films and globe-girdling satellite TV hookups. Graham's message was not complex or unique, yet he preached with a conviction that won over audiences worldwide.
His message and service to presidents, also including Dwight Eisenhower to George W. Bush, earned him the nickname America's Pastor.
'God has his people in all churches'
In 1983, President Ronald Reagan gave Graham the Presidential Medal of Freedom, America's highest civilian honour.
'When he prays with you in the Oval Office or upstairs in the White House, you feel he's praying for you, not the president.'– Bill Clinton, former U.S. president
When the Billy Graham Museum and Library was dedicated in 2007 in Charlotte, former presidents George H.W. Bush, Jimmy Carter and Bill Clinton attended.
READ MORE  HERE  AT THE CBC NEWS WEBSITE