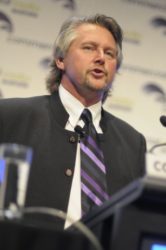 by J.J. Jim Johnston
JJ-365 Salutes
February 15, 2018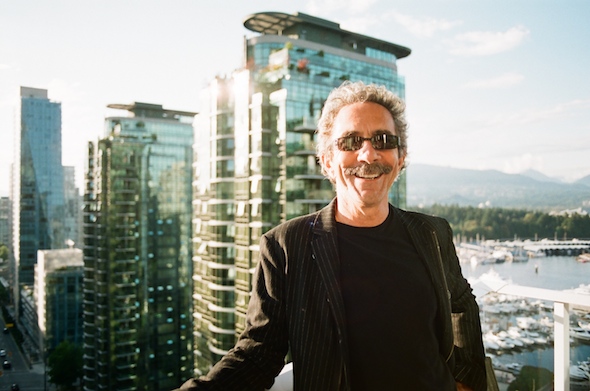 Welcome to JJ-365 Salutes. Over 2018, we pay tribute daily to one of "The Good Ones". Today we are shining the light on Brother Jake Edwards.
It's only fitting on National Radio Day there we talk about a true legend, one that hopefully the powers that be will put into the Hall of Fame soon. He's earned it and continues to do so each and every morning!
Bro Jake's success over the years in morning radio is truly spectacular or as he would say, "WICKED!".
I first met him at CITI-FM Winnipeg when he was the Morning guy. I was contemplating the afternoon drive shift after Terry Dimonte left. Steve Young had flown me in to take a look around and both he and Jake picked me up at the airport. That was the quickest ride I have ever had because if you know Jake, you know he was a pro racer with a definite need for speed. The airport to Polo Park is only a 5-10-minute ride, but I barely had my door closed when we arrived at our destination. We all hung out, saw The Pumps (one of my favourite bands at the time) and I was sold on moving to the 'Peg.
We worked together at CITI-FM anchoring the drive shifts for 2 years until I replaced him in mornings when he took on the down east challenge of creating and launching the "Rock of the Atlantic", the Mighty Q 104, in Dartmouth, Nova Scotia. The station blew the doors off and next Jake was at the top in the morning air-chair at Q107, which turned out to be another knockout.
After a great run there, Jake made his way back to Winnipeg as Program Director and morning guy at CJKR (The Joker) where once again he made it happen, despite all kinds of CRTC compliance hassles.
Q107 wooed him back for another successful morning stint, and after that Jake, Lori and the kids were off to the West Coast to focus on developing his fictional character "The Champ" into an animated series.
He didn't have a radio gig, but Ross Winters immediately put him on ROCK 101 weekends. The ratings went through the roof and it didn't take long to put Jake into mornings where he had a 17-year run with "Marty" Martin Strong at his side and a long list of characters like The Champ, Dr. Stinky Carl Bauer (proctologist to the Star's) and real-life contributors. His Champ nights at the bars were legendary for finding new players and generating great content. Jake, like Howard Stern, figured out early that attracting and surrounding yourself with characters, real life and not so real, adds up to exciting, fun, well rounded and relevant radio.
When I moved to Vancouver in 2005 as VP/GM of CORUS, one of the first things I did was re-sign Jake and he had many more successful years in the morning slot. In 2013 after I left, CORUS declined to renew Jake's contract, however BELL GM James Stuart jumped at the chance to pair Bro Jake with veteran sport broadcaster, David Pratt at All-sports, CKST-AM (TSN Radio 1040), and the two are still kicking it!
Here's something about Jake I will never forget: When my wife Leafa, baby Jay (Geordan came shortly after) moved to Winnipeg for the CITI-FM gig we were up to our nostrils in debt. We were underwater, owing more than what was coming in.
Jake once asked me "why aren't you going out and hanging out with all of us more?" I told him the embarrassing story about our financial crisis, but that we did had a multi-year plan to get out from underneath our monetary troubles. I told him I was hesitant to go out in public because all my clothes were old and a little tattered. How poor were we? You started it! "Every night after dinner we would argue over who was going to do the dish-
?."
Jake brought me over to his house, where we went through his closet and he gave me a bunch of cool clothes. He never told anybody about that and if he did, I would have been crushed. He looked out for me.
Each year for many years Jake would, for the Picton Ontario Rotary charity golf tournament, record a Champ skit about selected individuals. The recipients of "The Rotary Champ" each year were tickled pink, beaming from ear to ear when their turn came up, and they all still play their audio any chance they can.
Yeah Jake is lotta fun, he's the centre of attention, and larger than life, but there's a real softy inside.
We had so much fun over the years in Winnipeg and all points in between, and I so looked up to Jake coming up through the ranks.
Jake is quite the family man and his wife Lori Loris Mazerolle has been a big part of his success, handling the management side of things. Together they have raised two lovely and very successful kids in Zach and Alex.
Jake has won so many awards over the years including CMW Radio Personality of the Year, and truly deserves to be in the Hall of Fame someday. As Jake would say "Onwards and Edwards!" As The Champ would say "is that enough Bro Jake for ya?" Ever since he's been the Champ!
Congrats Brother Jake Edwards, the legend, on being one of "The Good Ones". Feel free to like and share Jake's positive story. Who is the subject of tomorrow's JJ-365 Salutes? Stay tuned!
Jim JJ Johnston is the CEO, President and Chief Talent Coach for JJIMS INC.