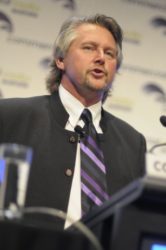 by JJ Jim Johnston
February 10, 2018
Welcome to JJ-365 Salutes. Over 2018, we pay tribute daily to one of "The Good Ones". Today we are shining the light on Dave Reynolds.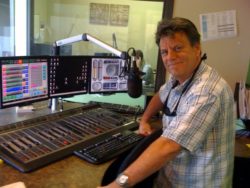 I first knew Dave Walpole (yep that's his real last name) when he was growing up in Ottawa. He was an avid listener when I was doing evenings at CFGO. He would call in for requests, to win and do bits. During his first time in the studio he said, "where is everybody?" We had an active radio show with a lot of characters, some of which were mine, and some from the world class voice actor, musician and producer Leonard Naemark. Dave expected to see 10 people on there, but all he saw was a couple of rebels and character parts-on-carts. He credits those experiences as his motivation to get into the on-air business.
I left for CFTR, and not much later Dave moved to Toronto and got hold of me. I introduced him to John Keough who was the operations manager. A few days later when I came in they were training a brand-new board op named Dave, who had a smile from ear to ear.
What I always remember about Dave is that he was willing to do the work. Amazing how people get into the broadcast business only to discover the major commitment needed to be good at the craft. It's a lot of work to have this fun. At CFTR Dave was constantly on me to listen to his demo tapes. We would go through his stuff and he was always willing to try something different and new and then couldn't wait for me to hear his stuff.
I left for CITI-FM Winnipeg while Dave stayed on till Les Palango hired him for his first on-air gig at CKJD Sarnia (CFTR's farm station). Next, he jumped up to Windsor where he worked for CKWW and later CKLW.
Around this time the great Radio consultant Pat Bohn led Dave to the soon-to-be Oldies Hits 990, CKGM-AM in Montreal, where he became "Super Dave". Dave, Pat and Brad Jones all worked together to flip the station and things were good till CHUM decided to flip again, and this time to all Sports.
Standard radio came to the rescue as Pat Holiday PD at MIX in Montreal, hired Dave for weekends, and also Gord Taylor (aka Gordman) had "Kodiak" Dave do some shifts at the BEAR in nearby Ottawa.
I hired Dave from there (now BUZZ Reynolds) to the MIX Toronto where he started on overnights, very quickly into the nine to noon shift and then after the late and great Katfish Morgan moved to mornings to work with our great young PD Blair Bartrem, I put BUZZ into the drive shift along with Nat Lauzon. Natalie left for Montreal to work with Katfish and I hired another Nat, Natalie Hunter, a great young talent who I brought in from Kingston. At one-time Dave and the two Nat's enjoyed the distinction of being the most listened to afternoon drive show in Canada. Nat Hunter went on to the Nat and Drew show, a continually top-rated show in Vancouver.
After I left to go for Corus, MIX made some changes and Dave found himself back in Montreal for a five-year stint on drive at the world famous CHOM-FM. After that gig, Dave worked for a few years as operations manager and morning guy for MBS in St John New Brunswick before he got a call from Terry Coles, his old GM in Windsor who was now the President of the brand-new Vista radio chain.
Dave ended up in Campbell River B.C. where he was a program director for three stations and the morning guy on 99.7 The River. Dave tells the story of getting a call from the Kurt Flesher, morning guy from his Port Hardy station, who told him they were not on the air yet. Dave asked why? Kurt said, "because there's a cougar at the front door of the radio station and he's not moving." Dave said, "stay in your car!"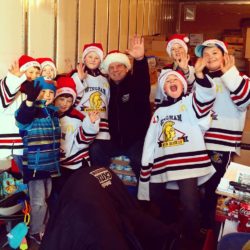 While in Campbell River, Dave's hard work had him starting a Christmas initiative for the food bank where he would broadcast live in a transport trailer until it was full of food. Remember when I said Dave was a guy who would do the work? This became a very successful promotion filling the food banks and earning the station and Dave all kinds of recognition.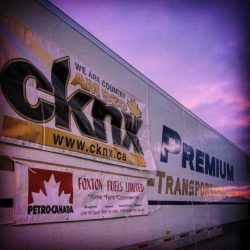 At his current home as Morning guy at CKNX Wingham, Ontario, Dave started up his Christmas Food Bank initiative again which this past Christmas saw three transport trailers get loaded up. To put that into perspective, that is enough to feed 10 local food banks through the Huron county food bank distribution centre till the end of this summer. Remember how cold it was in December? Dave slept every night in that trailer till the job was done.Today Dave is also the announcer and co-host of Frank D'Angelo's "Being Frank Show" which is an interesting show to watch-:).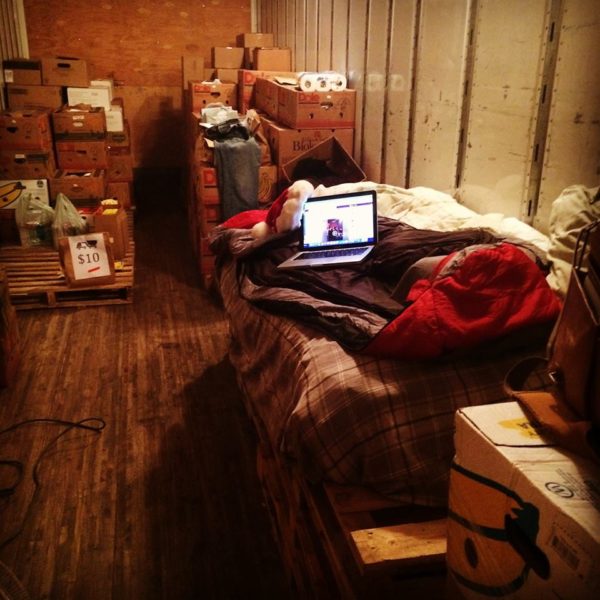 Dave's hard work has made a nice difference in all the communities he has served. You can always count on Dave, or BUZZ or Super Dave or Kodiak Dave, or as he prefers, just Dave.
Dave's daughter Lauren works as assistant General Manager at the York Street KEG in Toronto and son Zach is a successful contractor and the dad of Dave's two grandbabies.
Congrats Dave Reynolds, the legend, on being one of "The Good Ones". Feel free to like and share Dave's positive story. Who is the subject of tomorrow's JJ-365 Salutes? Stay tuned!
Jim JJ Johnston is the CEO, President and Chief Talent Coach for JJIMS INC.
J.J.'s bio, courtesy of VancouverBroadcasters.com
J.J. Johnston – Board operator CKLC Kingston ON 1974-75; midday host CJET Smiths Falls ON 1975; morning hostCKOB Renfrew ON 1975-76; nights CFCH North Bay ON 1976-77; evenings CFGO Ottawa and part time CKLW Windsor ON 1977-79; swing CFTR  Toronto 1979-81; p.m. drive/mornings/ssistant PD CITI-FM Winnipeg/Jet's hockey broadcaster at CKY Winnipeg 1981-86; PD CHAM Hamilton ON 1986-88; national PD Moffat Communications/PDCFOX-FM/CKLG Vancouver 1988-93; national rock PD WIC Communications/CFMI-FM Vancouver 1993-94; VP programming Standard Radio/CKFM-FM Toronto 1994-2000; GM Corus Radio cluster Toronto 2000-05; GM Corus Radio (CFMI-FM/CFOX-FM/CHMJ/CKNW) Vancouver 2005-10; regional GM then contract consultant Corus Radio East – Barrie/Collingwood/Peterborough/Kingston/Cornwall ON 2013-current; President/CEO, JJ international Media and Management Solutions Ontario 2013-current; Interim GM CJPE-FM Prince Edward County ON 2013-current.  LinkedIn profile