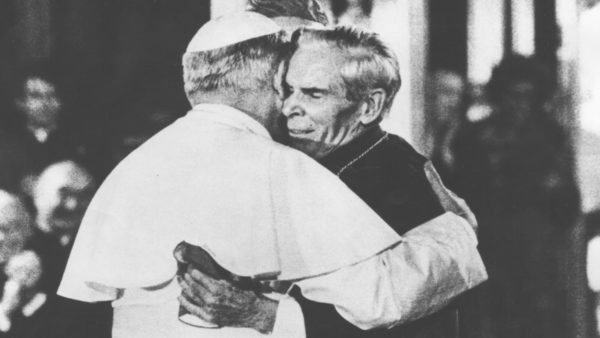 Thirty million people tuned in to watch 'Life Is Worth Living' before he was sent into ecclesiastical exile. Now there's a movement to have him sainted—and a battle over his bones.
Bishop Fulton Sheen was the world's first televangelist, drawing 30 million viewers to his weekly show until he fell victim to a jealous cardinal who drove him off the air and out of New York into what was called "ecclesiastical Siberia."
In posthumous recompense for the wrongs he suffered at the hands of Francis Cardinal Spellman, he was accorded the honor of being buried in the crypt beneath the altar at Saint Patrick's cathedral.
But it was the small Illinois diocese where Sheen started out that began the process of making him a saint back in 2002. And the niece who is Sheen's closest living relative has filed a lawsuit seeking to have his remains moved to a cathedral in Peoria.
.
The present New York cardinal, Timothy Dolan, is a huge Sheen fan and is of the stated belief that his hero would want to stay undisturbed where he is.
A lower court judge found in favor of the niece but the New York Supreme Court Appellate Division has reversed that decision. And the battle of the blessed bones will now return to the lower court.
Such doing would have been beyond all imagining back in 1952, when Sheen, appeared on the cover of Time Magazine. He went on to beat out comedian Milton Berle for the 1953 Emmy for Most Outstanding Personality.
"He's got better writers," Berle famously responded. "Matthew, Mark, Luke and John."
READ THE REST OF THE STORY  HERE