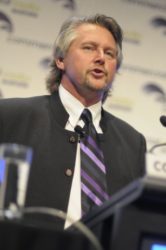 JJ-365 Salutes
February 3, 2018
Welcome to JJ-365 Salutes. Over 2018, we pay tribute to one of "The Good Ones". Today we shine the light on Keith James.
In the MOFFAT Communication days which we all loved, all the markets generally did extremely well, including Calgary. The two stations there were CKXL, and CHFM-FM. Keith James was the General Manager and prior to this role Keith had huge success as the Program Director of the gigantic CHED-AM in Edmonton. Keith was known as a brilliant radio programmer and very strong leader who had definite thoughts and ideas. If you played in the sandbox like a good team member and performed, Keith would love you. If you didn't perform or have a great attitude, fitting in was tough. As you can imagine the people who didn't, were quick to voice their displeasure, but most really enjoyed working for Keith.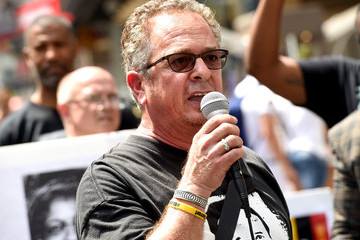 An old friend by the name of Don Kay (another good one) had hired me to become MOFFAT's Program Director of CHAM Country. I had never been a Program Director before and Don was the best boss for me to get started. He allowed me to grow some wings and gather experience before he dropped a bombshell that he was going back to run the Winnipeg cluster for Moffatt (CITI-FM/CKY). This is where we found out Keith James was coming in as his replacement.
Honestly, I knew how great and smart Keith was as a programmer, and prior to him coming I was always intimidated by him (my issue). He had a reputatation as one who got things done and sometimes in a no-nonsense kind away.
In his new role, he picked my programming brain with questions like why do we do this? why do we do that? all very good questions of which many, in my still greenhorn state, I didn't have answers to. I thought I knew something, but it turned out I didn't know much. He taught me, in a frickin' hurry that there's a reason for every single thing that's on the radio and you better know why you're doing what you are doing. He pushed me hard, but I was like a sponge around him. I honestly didn't think I was going to last, but he saw something there and stuck with me.
He was a strong believer in getting together which is what we did often with our wives and kids. That made us more comfortable and soon we had a lot of fun together.
Keith had a brilliant promotional mind. I had run into a gentleman who was running marketing for Bacardi which housed the Jack Daniels brand. We got talking and I thought wow wouldn't it be great if we could do some advertising and promotion together. He said that wouldn't be possible in the conventional sense because the liquor laws at the time prohibited advertising liquor on radio. He also said it was too bad because he had unlimited Jack Daniels merch, and lots of trips and tours to the JD distillery in the Nashville area. I fed this back to Keith which got both of our noodles were twitching.
This is about the same time that Brian Wood left the CHAM Country afternoon show and in his place we had hired an old friend of Keith's, a fellow by the name of Dieter Stachow who hadn't started yet.
Here's one of the best examples of Keith James ingenuity: I was in a full staff meeting and all the sudden there's a loud knock on the door. I said yes, and Keith poked his head in and said, "Jimmie I need to talk to you." Everybody was looking around, myself included like oh boy what's this all about?
I went in to his office and he said, "why don't we change Dieter's name to Jack Daniels?" What? The lightbulb went off, and I fell to the floor with an uncontrollable belly laugh. That went on for awhile, I picked myself up, told Keith was brilliant, and got on to introducing Jack Daniels, our new afternoon drive guy.
Jack Daniels permeated the airwaves, and Jack had a ton of branded merchandise to give away. The next thing you know we were sending listeners on trips for two to Nashville with who else but Jack Daniels.
Keith took me from a wet-behind-the-ears Program Director to someone who maybe actually knew what he was doing. His coaching and mentoring got me ready to make the leap from Hamilton to MOFFAT Vancouver's CFOX. I never knew that that would be possible, but he taught me so much in a short period of time and then sent me off with some confidence.
Keith stayed at CHAM for many years and the station was crazy successful. Next he became the GM of CISS Country in Toronto and had a good run working for the Rawlinson's.
Keith and wife Carolyn (a real sweetie) moved to the West Coast where Keith finished off his career running SUN-FM in the beautiful community of Duncan BC.
KEITH and Carolyn are retired, still live on Vancouver Island, and Keith will go down in my mind as one the greatest, if not the all time best, radio programmer of his time. He brought along so many people in his time, and we are grateful.
Congrats Keith James, the legend, on being one of "The Good Ones". Feel free to like and share Keith's positive story. Who is the subject of tomorrow's JJ-365 Salutes? Stay tuned!
Jim JJ Johnston is the CEO, President and Chief Talent Coach for JJIMS INC.
.
J.J.'s bio, courtesy of VancouverBroadcasters.com
J.J. Johnston – Board operator CKLC Kingston ON 1974-75; midday host CJET Smiths Falls ON 1975; morning hostCKOB Renfrew ON 1975-76; nights CFCH North Bay ON 1976-77; evenings CFGO Ottawa and part time CKLW Windsor ON 1977-79; swing CFTR  Toronto 1979-81; p.m. drive/mornings/ssistant PD CITI-FM Winnipeg/Jet's hockey broadcaster at CKY Winnipeg 1981-86; PD CHAM Hamilton ON 1986-88; national PD Moffat Communications/PDCFOX-FM/CKLG Vancouver 1988-93; national rock PD WIC Communications/CFMI-FM Vancouver 1993-94; VP programming Standard Radio/CKFM-FM Toronto 1994-2000; GM Corus Radio cluster Toronto 2000-05; GM Corus Radio (CFMI-FM/CFOX-FM/CHMJ/CKNW) Vancouver 2005-10; regional GM then contract consultant Corus Radio East – Barrie/Collingwood/Peterborough/Kingston/Cornwall ON 2013-current; President/CEO, JJ international Media and Management Solutions Ontario 2013-current; Interim GM CJPE-FM Prince Edward County ON 2013-current.  LinkedIn profile