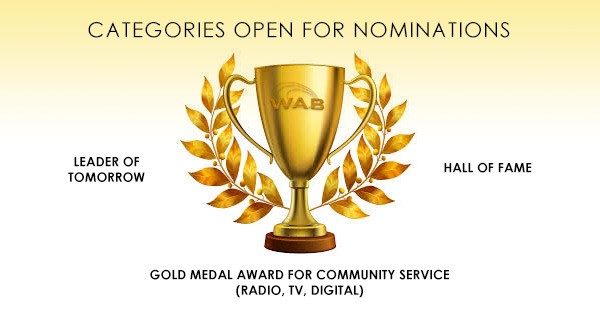 Nominations for the Western Association of Broadcasters Awards of Distinction is now open.  Deadline for submissions is 
Friday, April 6, 2018
.  Nominations are being accepted for the Gold Medal Award recognizing Community Service, Leader of Tomorrow (under 30 years of age) and the most prestigious award, induction into the WAB Broadcast Hall of Fame.
 .
The criteria for the Hall of Fame was recently updated and a Gold Medal Awards for Community Service are now also being accepted for Digital entries.  Previously the sub-categories the Gold Medal Awards category was open to only Radio and Television entries. Digital award entries may still include a radio and/or TV component, but we're looking to award a recipient in the Digital category with a predominantly online focus (eg: website, portal, social media).
For more information on the award categories and criteria visit www.wab.ca/award-categories.
Winners will be announced at the WAB President's Dinner & Gold Medal Awards Gala on June 7, 2018 in Banff, Alberta following the WAB 84th Annual Conference – Canada's Premier Broadcasters Conference.
The WAB is also pleased to recognize 25 Years and 50 Years of Service to broadcasting.  An application can be completed at www.wab.ca/boa-form by staff of member stations of the WAB.  All eligible applicants will receive acknowledgement with a pin and certificate from the WAB.