From our friend Paul Larsen's facebook page; "Bittersweet day as I announced to my staff the sale of our Medicine Hat radio station to Rogers today. To my team at CJCY, you've been a cornerstone of Clear Sky Radio for almost a decade and I look forward to continuing to work with you over the coming months while the CRTC process unfolds."

– Popular Classic Hits FM brand joins Rogers Radio's 105.3 ROCK in Medicine Hat, deepening the company's commitment to the local community –
TORONTO (January 16, 2018) Rogers Media announced today that it has entered into an agreement with Clear Sky Radio Inc. to acquire the radio broadcasting license CJCY-FM (102.1 CJCY Classic Hits). The FM music brand services communities in Southeast AB, including Medicine Hat along with Redcliff, Dunmore, Seven Persons and Bow Island. Closing of the transaction is expected to occur in the coming months, and is subject to approval from the Canadian Radio-television and Telecommunications Commission (CRTC).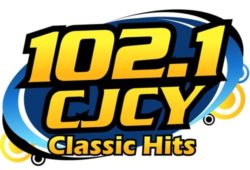 "CJCY has earned a strong local listener base in the community, and we're excited to have the opportunity to build on the station's legacy and continue its success," said Julie Adam, Senior Vice President, Rogers Radio. "Complementing our existing local station – 105.3 ROCK – this acquisition allows us to double down on our promise to offer high quality local programming across multiple platforms to listeners and better serve the community."
CJCY-FM will join Rogers station CKMH-FM (105.3 ROCK) in Medicine Hat, rounding out the company's radio portfolio of 55 stations across the country. This acquisition also serves to strengthen Rogers Media's diverse roster of radio and television brands in Alberta, including 14 radio stations in the genres of Rock, Country, Top 40, and Multicultural, along with TV properties City, OMNI Television, and Sportsnet.
"We're proud of the quality of programming and customer service that we have provided to our listeners and advertising partners in Medicine Hat over the past decade," said Paul Larsen, President, Clear Sky Radio. "With Rogers's reputation for delivering the highest quality radio services, we have no doubt that CJCY joining forces with 105.3 ROCK will provide significant benefits to the community, our employees, listeners and clients."