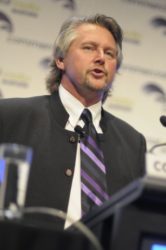 JJ-365 salutes
 .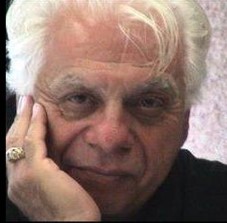 Welcome to JJ-365 Salutes #16. Over 2018, we pay tribute daily to "The Good Ones". Today we are shining the light on
Gary Michaels
.
 .
Gary Michaels is an Ottawa radio legend. Growing up as a little gnat nearby in Smiths Falls Ontario, I used to listen to CJET RADIO. The DJ I remembered the most was Gary Michaels. Like most teenyboppers in the area, I would call the hit-line. Gary would take the time to talk to me and every once in awhile he would put me on the air. It was where I first thought of radio as a career. He left the JET in 1970 for Ottawa Radio, and we moved away to Prince Edward County shortly after.
 .
When I got the call to go to CFGO radio, I knew Gary was on-air there, and was excited to meet him. I quickly blurted out the story about how I grew up listening to him. I told him what a career impact he had been on me, and how excited I was to be working with him at the same station. I was very young and impressionable and he knew this. I felt he took me under his wing and looked out for me. We had a lot of fun at that station and Gary was one of the guys who was the glue of the station.
 .
Howard Lapides (his CFGO on-air name was Jon L'Heuri) is a heavyweight producer and manager (Freddy Got Fingered in 2001, Celebrity Rehab with Dr. Drew in 2008, and Dr. Drew's Lifechangers in 2011 to name a few). Here are some of his thoughts regarding Gary's impact in the CFGO hallways:
"Gary Michaels is from Ottawa. It's his town. Much as William B Williams was to New York City, Gary Michaels is to Ottawa. Ottawa moves to the rhythm of Michaels. When the new staffed arrived at CFGO-AM, Michaels was our conduit to the city. He knew all there was to know about Ottawa: ask him a question and get an answer ten levels deep. Michaels was priceless. The CFGO-AM staff was a tight-knit group, in large part because of Michaels. Other than him, the only people we knew, in Ottawa, were one another. He was the backbone of local radio. He held it together, made listeners care about the city and left a touch of class, on all that he did".
 .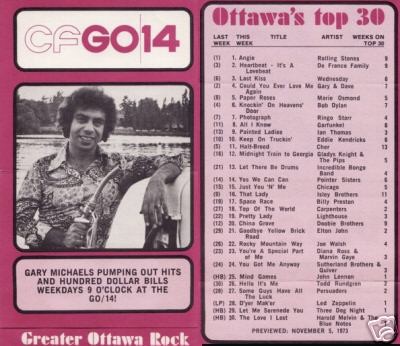 Gary and I chatted yesterday and he reminded me of the time we got together in Toronto when he was in for this radio competition called the Gillette Challenge. I was at CFTR and disillusioned. I had been passed over a number of times for more important on-air shifts, and was seriously thinking about getting out of the industry. He told me he thought I was a pretty talented young man and the industry needed more people like me, and encouraged me to rethink. I was surprised and happy for some timely advice from a pro I totally respected. I hung in there and got on to the next steps of my career. Don't let me pretend to be special, because Gary is a guy who has handed out wise advice for a lot of people over the years.
.
Gary's last post was GM/PD of CJLL (CHIN Radio) in Ottawa from 2003-2011. He still does professional voicework, owning and operating the Gary Michaels Agency. Gary turns 75 today and is one of the best guys ever in the radio business. He and Brenda still live in their hometown of Ottawa and are healthy and happy. Happy Birthday and thanks Gary!
 .
Congrats Gary Michaels, the legend, on being part of "The Good Ones". Feel free to like and share Gary's positive story. Who is the subject of
tomorrow's
JJ-365 Salutes? Stay tuned!
 .
Jim JJ Johnston is the CEO, President and Chief Talent Coach for JJIMS INC.
.
J.J.'s bio, courtesy of VancouverBroadcasters.com
J.J. Johnston – Board operator CKLC Kingston ON 1974-75; midday host CJET Smiths Falls ON 1975; morning hostCKOB Renfrew ON 1975-76; nights CFCH North Bay ON 1976-77; evenings CFGO Ottawa and part time CKLW Windsor ON 1977-79; swing CFTR  Toronto 1979-81; p.m. drive/mornings/ssistant PD CITI-FM Winnipeg/Jet's hockey broadcaster at CKY Winnipeg 1981-86; PD CHAM Hamilton ON 1986-88; national PD Moffat Communications/PDCFOX-FM/CKLG Vancouver 1988-93; national rock PD WIC Communications/CFMI-FM Vancouver 1993-94; VP programming Standard Radio/CKFM-FM Toronto 1994-2000; GM Corus Radio cluster Toronto 2000-05; GM Corus Radio (CFMI-FM/CFOX-FM/CHMJ/CKNW) Vancouver 2005-10; regional GM then contract consultant Corus Radio East – Barrie/Collingwood/Peterborough/Kingston/Cornwall ON 2013-current; President/CEO, JJ international Media and Management Solutions Ontario 2013-current; Interim GM CJPE-FM Prince Edward County ON 2013-current.  LinkedIn profile