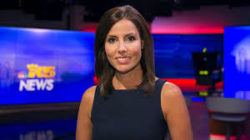 Heather Graf is moving to WJLA in Washington DC as a reporter, leaving KING-TV in Seattle where she was a reporter for the past five years. She broke the news on her Facebook page, where she usually promotes the news stories she's covering.
Seattle and the amazing people I've met here will always hold a special place in my heart. I am a better journalist because of the time I spent at KING 5. And my KING 5 coworkers aren't just coworkers. They are dear friends. My west coast family. But after five years telling stories in the Pacific Northwest, the east coast is calling me home. I'm excited to share the news, I'll soon be covering the news at WJLA in Washington, DC! Feeling grateful for this new opportunity and all that awaits in 2018!                                                                                                                                                        

?

?

?

 Thank you, Seattle, for all the memories.