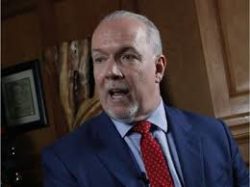 Columnist Mike Smyth writes about CBC firing reporter Richard Zussman for co-writing a book on B.C. politics without receiving proper approval. Premier John Horgan harshly criticizes the decision in an interview.
It's not often you hear a B.C. premier lash out at a major media organization over an internal personnel matter.
But that's exactly what Premier John Horgan is doing, ripping into the CBC after the public broadcaster fired Richard Zussman, the network's hard-working and popular legislative reporter.
"I think it's outrageous," Horgan told me in an exclusive interview.
"The guy's a professional and he's being treated very, very poorly by an organization that clearly doesn't understand his value to them.
"They're burning a very useful asset. As a business decision, it's a bad one."
The CBC fired Zussman after he co-wrote a book about B.C. politics with Postmedia reporter Rob Shaw.
.
The book — about the fall of Christy Clark's Liberal government and rise of Horgan's NDP — is set to be published in the spring.
Zussman's sin is that he did not secure proper written approvals from senior CBC management to co-write the book, I'm told.
"We made the decision to terminate Mr. Zussman's employment with CBC based on the findings of a third-party investigation," said CBC spokesman Chuck Thompson.
He said the investigation showed Zussman violated CBC's code of conduct, conflict-of-interest rules and the collective agreement with the Canadian Media Guild union.
"Mr. Zussman's employment with CBC was not terminated simply for co-authoring a book," Thompson stressed.
While the guild agreement says employees "may not work with the competition" or "exploit their connection with the CBC," the union said there needs to be "latitude" for employees to pursue outside activities.
READ MORE  HERE