FNC Delivers Highest-Rated Year in Network History in Total Day Viewership
FNC Delivers Network Highs in Social Media and Digital
.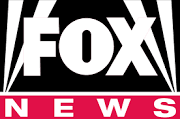 .
NEW YORK–(BUSINESS WIRE)–FOX News Channel (FNC) marked its second consecutive year as the most-watched basic cable network in primetime and total day in total viewers, according to Nielsen Media Research, averaging 2.4 million viewers in primetime and 1.5 million viewers in total day. FNC also notched its highest-rated year in network history on a 24-hour basis in total viewers and led the way in primetime with both total viewers and the Adults 25-54 demographic.
In commenting on the network's record ratings, FNC's President of Programming Suzanne Scott said, "Throughout this past year, FOX News has continued to prove its dominance in the television landscape despite many changes and one of the most intense news years on record. For a news channel to experience growth following an election year is unprecedented and we are grateful to our loyal viewers for once again making us the most-watched network in all of cable."
In primetime and total day, FNC made gains and/or was flat in both total viewers and A25-54 versus the 2016 election year, which was the network's highest-rated year in history. In primetime, FNC delivered 2,422,000 viewers (flat vs. 2016) and 488,000 with Adults 25-54 (+1%). In total day, FNC notched another milestone victory with 1,501,000 in total viewers (+8% from last year). In the key 25-54 demo, FNC remained on top in cable news with 321,000 (+15%). Additionally, in cable news, FNC secured 15 of the top 20 programs in total viewers with 12 of the top 20 programs with A25-54. Furthermore, FNC's The Five, Tucker Carlson Tonight and Hannity claimed three of the top five programs in the younger 18-49 demographic.
READ MORE OF THIS PRESS RELEASE  HERE