by Edward C. Baig and Mike Snider, USA TODAY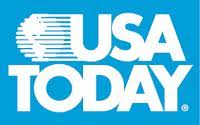 Alleged talks of Disney buying parts of 21st Century Fox stalled last month, but they've reportedly resumed.
The Walt Disney Co. is expected to close a deal valued at as much as $60 billion to acquire much of 21st Century Fox's assets, according to a news report.
The two companies are on target announced the deal on Thursday, CNBC reported Tuesday citing persons familiar with the deal.
Disney is expected to acquire the 20th Century Fox film and television studios, channels such as FX and NatGeo, Fox's regional sports networks and its 30% stake in subscription streaming service Hulu. Disney could also get U.K.-based TV and Internet provider Sky, of which Fox currently owns 39% and is seeking to acquire in its entirety.
Fox would create a new company from its remaining assets including the Fox television channel, Fox News Channel and the Fox Sports channels.
Rumors of Fox's interest in selling some of its assets began a month ago. Last month a source familiar with the situation told USA TODAY that Comcast approached Fox and expressed interest in such assets as the Fox TV and movie studio, Sky and Mumbai-headquartered studio Star India.
However. Comcast on Monday announced it was no longer interested in pursuing a bid for most of 21st Century Fox's assets.
.
READ MORE 
HERE 
AT THE USA TODAY WEBSITE