Songwriters threaten to withhold their music if US stations don't give them a bigger share of revenue.
By Lucas Shaw, Bloomberg BusinessWeek
.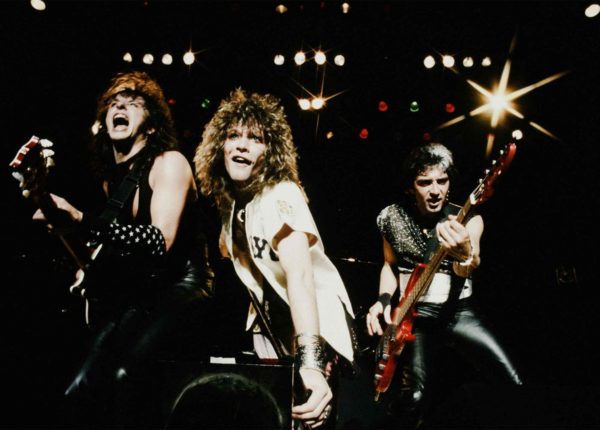 Jon Bon Jovi got his big break in the early 1980s after spending an entire day waiting to pester a disc jockey at a radio station on Long Island, N.Y., to play a demo of a song he'd written. The album with that song, Runaway, went on to sell more than 1 million copies and helped fuel the career of one of the most enduring rock artists of the past four decades. Now, Bon Jovi is again lobbying radio officials, and this time the impact could be far larger. He and about 75 other artists—including such staples of the airwaves as Drake, Pharrell Williams, Steve Miller, and Bruce Springsteen—have joined supermanager Irving Azoff's crusade to press radio stations to boost the royalties they pay writers when they play their songs. That figure hasn't budged in decades, and Azoff says artists may pull some of their music off the air if their concerns aren't addressed.
"This isn't about the guy in my position, but about my buddies who are very good songwriters who try to make a living just songwriting," says Bon Jovi, whose latest tour grossed more than $40 million this year. "Who will champion them? There is no charity show for the songwriter."
.
 For all the fuss about streaming services 
Spotify
, 
YouTube
, and 
Apple
 Music, radio is still the lifeblood of the music business. It's the most common way music is listened to in the U.S., where 240 million people tune in every week, and stations generate about $18 billion in radio advertising annually from news, talk, sports, and music.
Under the industry's confusing business model, radio companies pay about 4 percent of their music-related advertising revenue to songwriters. That's a smaller share of the ad haul than Pandora, Spotify, or YouTube pays artists. (Performers aren't compensated for radio airplay; instead they make money from music sales, streaming, and touring.)
Enter Azoff, a former head of the MCA record label and ex-chairman of concert promoter 
Live Nation Entertainment Inc.
, who's best known as the manager for such mega-acts as Bon Jovi, the Eagles, and Christina Aguilera. He and industry veteran Randy Grimmett founded Global Music Rights, which is demanding that radio stations pay its big-name artist-songwriters a higher rate—but  less than digital and internet radio services pay.
.
Stations have responded with a lawsuit, accusing Azoff of anticompetitive behavior. He countersued, and the litigation is ongoing. The stations don't seem to want to settle, Azoff says, and if the suit doesn't go his way, he may have only one recourse: taking Pharrell's Happy off the radio, along with other songs. "A radio music licensing cartel—that's what their behavior depicts," he says of the current industry setup. "When it smells like a cartel and acts like a cartel, in my language, that's a cartel."
The Radio Music License Committee, which represents the industry's 10,000 commercial stations in licensing matters, has denied that characterization in a court filing. "We would be comfortable with maintaining the status quo," says RMLC Executive Director William Velez, who says the controversy has been fueled "because of rate envy" over the higher streaming royalties Pandora has agreed to pay artists.
Radio stations have fought artists' efforts to collect a greater share of their sales since before World War II. At the time, the American Society of Composers, Authors and Publishers (Ascap) represented all popular music played on the radio. When Ascap announced in 1939 that it would raise its fees, broadcasters responded by creating their own performing rights organization, Broadcast Music Inc. (BMI). The rate paid to writers, which stood at 7.5 percent before the formation of BMI, now sits around 4 percent. For the past six decades, the rates have been governed by a special court created under a settlement with the U.S. Department of Justice.
Most artists have steered clear of a fight with the radio industry, for fear of upsetting the most important promotional vehicle in the world's largest music market. Until as recently as the early 2000s, some record labels paid stations to play their songs. Even today, artists often play radio station concerts and festivals for free and are even asked to pay for at least a share of their airfare for such gigs.
READ MORE HERE AT THE BLOOMBERG BUSINESSWEEK WEBSITE.