Peter Weissbach
 – Talk show host CJOR Vancouver 1980s; on air/PD CJCA Edmonton late 1980s-93; talk host: KBNP Portland 1995; 
president Questline Productions (WA), Inc. 1995-current; talk host 
KOGO San Diego 1997; KVI Seattle (nationally syndicated from KOMO Seattle) 1998-2001; weekends/fill-in KIRO Seattle 2004; US syndicated talk show fill-in 2004-09; talk show host KVI Seattle 2009-10; president Seattle Building Maintenance, Inc. in final years.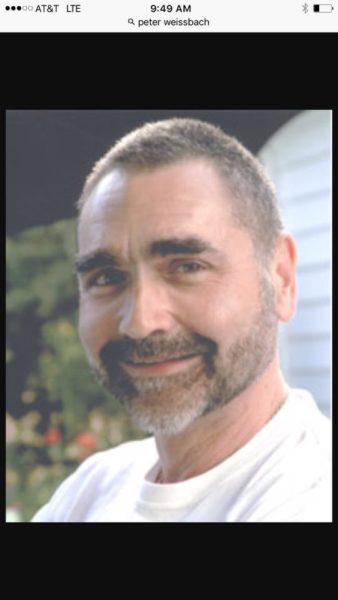 Thanks to Vancouver Broadcasters for Peter's radio itinerary.  David Boze posted the following tribute on his Facebook page.
Remembering my friend, Peter Weissbach:
He was a giant of a man. Standing no taller than five foot six, yet so full of life's fire, so intense was his inquisitiveness, so forceful was his personality, one could not fail to notice his presence fill any room he walked into. His eyes were abnormally large, expressive, inescapable, and capped by magnificent eyebrows capable of amplifying his every emotion. His voice was rich, deep, and genuine and his laugh was full-throated and infectious.
Peter was a man of contradictions: a passionate defender of Western Civilization who explored Eastern culture and religion; a street fighter and an academic; a rebel and a traditionalist; a man of ego and humility.
Most of all, Peter was a family man. While a fierce business competitor and driven to succeed, intimate conversation would always reveal the driving force of his success–the desire to provide for his wife and family. The same was true of his passion for liberty and the constitution–it was not his liberty, success, and freedom he was concerned about, but that of his daughters and their children.
Peter and I had been friends since the day I met him on my first day in radio in 1999. I became his "grasshopper" and we shared an on-air chemistry that people still ask me about today. The truth is we were the same off air. We enjoyed each other's company and made each other laugh–and think.
Peter died Friday morning, November 10th after a vigorous battle with cancer. First diagnosed with a rare, almost unheard-of form and given just weeks to live, Peter did what Peter always did–he beat it. But increasing pain told him cancer wasn't done with him yet and he soon found himself battling more common cancers. This time, they were not to be beaten.
I am proud to tell you that he didn't go down without a fight. He fought hard and surrender came only when his body was spent–his mind never was.
Peter became a Christian before his death. I think it's safe to say the conversion surprised him. Peter was always seeking, always exploring the deep questions of life. His final months made that quest more urgent, but it remained honest. He was not a man to commit lightly.
Before he lost consciousness, I was able to have a lengthy visit with Peter and we covered many issues. He gave me the kindest compliment I think I've ever received from a friend. I told him we were always better together than separate and I regretted not working together again. I told him I loved him and he told me he loved me too. I thanked him for a friendship I'd always treasure.
I have much more to say about Peter, but I've been ask to speak at his memorial service, so I will add to this then. His service is planned for December 2. I'll post details as they become available. So that family can plan, if you think you might attend please tell me in the comments below.
I'd also appreciate it if you'd share your favorite memory of Peter or message it to me.
My last words to Peter were "till we meet again my friend." May he Rest In Peace and his family be comforted by the ferocity of his love shown to the very end.