How eight new low-power FM neighborhood radio stations got onto the air, and why you should listen.
.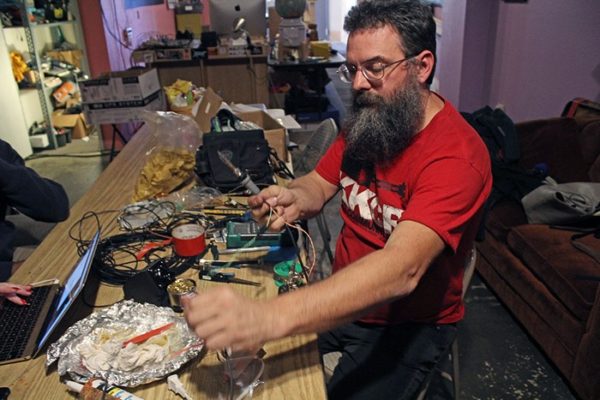 Pete Tridish describes himself as a radio engineer, media policy advocate, and troublemaker. 
AMBER CORTES
Engineer Pete Tridish is buried in wires. He's sitting at a table at Hollow Earth Radio in the Central District, holding a soldering iron, surrounded by a tangle of cables, tiny screwdrivers, and duct tape—and eating half a taco wrapped in tin foil from the truck across the street. It looks like a mess.
"This? A mess? No. Wires are cooperative. They eventually bend to your will. But people… not so much," he jokes.
Tridish describes himself as a radio engineer, media policy advocate, and troublemaker. His mission for the last 20 or so years has been to battle the radio powers that be (like the Federal Communications Commission and corporate-owned media) to help local communities take control of the airwaves.
Scanning the radio dial can yield mostly commercial stations blasting Top 40 hits interrupted by ads in order to reap as much money as possible. Even on the "left of the dial," where you can find college-owned and public radio, approximately 42 percent of noncommercial stations have a religious format, according to a 2010 FCC survey.
So between National Public Radio's focus on national (and often syndicated) news and Christian-oriented stations asking you to accept Jesus as your personal lord and savior, there's not a lot of room for a radio equivalent of the local blog, which can serve smaller communities like neighborhoods and immigrant groups.
That's where low power FM (commonly referred to as LPFM) community radio stations come in. LPFM stations may have small signals—fewer than 100 watt frequencies that usually reach only a few square miles—but they've got big hearts. Often run by part-timers or volunteers with a passion for radio, the DJs, citizen journalists, and hosts usually live in or around the community.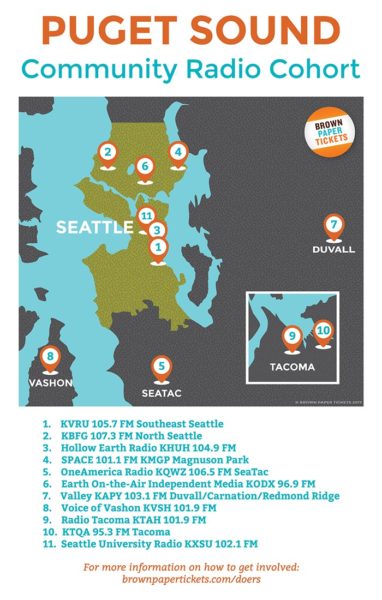 .
But it's only in the last couple of years, thanks in part to activists like Tridish and to 2013's Low Power FM Act (which passed in part due to the efforts of US senator Maria Cantwell of Washington), that the filing window for thousands of low power FM licenses opened up. Once closed, it may never open again.
"We would put together a demonstration against a war or against apartheid, and we just felt we were really drastically misrepresented when it came to media accounts of what we were doing."
So he and a group of his friends adopted some clever code names (Millie Watt, Anne Tenna) and started Radio Mutiny, a pirate radio station in Philadelphia.
Radio Mutiny ran for two years before it was shut down by the FCC. But the FCC chairman at the time, William Kennard, a Clinton appointee, expressed concern about the lack of minority ownership in the media and ordered a study to see if it was possible to run stations of less than 100 watts that didn't interfere with bigger commercial or public radio signals. The study found that it was possible.
"My pirate station was busted, and I didn't know what to do with myself," Tridish recalls. But he realized that "if a progressive group didn't step up to try to get some of these licenses, it'd be very ironic, because a bunch of churches would get all the frequencies that our civil disobedience had caused to open up!"
So the pirate radio punk became a grassroots lobbyist as one of the founding members of Prometheus, a media-justice organization that worked for 10 years to get LPFM where it is now—with almost 2,800 applicants for community radio licenses nationwide, and about 800 currently on the air.
The low power radio movement is flourishing in the Puget Sound region. Washington State is fourth for the number of fully licensed LPFMs in the country, and Seattle/King County's 10 LPFM applications (an above-average amount for a city of its size) have filled up all the available frequencies left.
.
As local media keeps shrinking more every day, these frequencies matter because they give these groups a permanent home in the media landscape and provide a forum for debate about important local issues.
For those who say that the terrestrial signal is dead, consider this: A 2015 Pew Research Center survey put radio listenership in the United States at 91 percent. Satellite radio stations like Sirius XM saw a 10 percent jump in revenue from 2013 to 2014, and NPR reached an "all-time high" of 37.4 million listeners—broadcastlisteners—in 2016.
THERE IS MUCH MORE TO THIS STORY  HERE  AT TheStranger.com