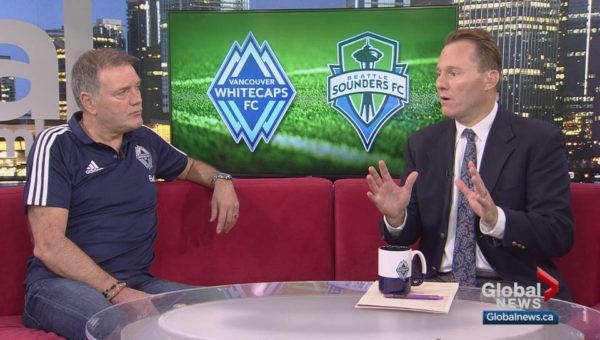 Whitecaps FC President Bob Lenarduzzi explains how his team is getting ready for their playoff match against the Seattle Sounders.
.
Come as you are… unless you hail from the Emerald City.
One of Vancouver's largest FM radio stations is getting in on the MLS playoff fun by axing all Seattle music in a light-hearted snub of the Whitecaps playoff rivals.
CKNW's Corus Radio sister station CFOX says the changes to the catalogue will be in place on Sunday and Thursday, the two days the Whitecaps face off against the Seattle Sounders.
Weekend host Ed Garcia said that means listeners won't hear a number of artists, including the famous Seattle grunge outfit behind Come As You Are.
.
"We're a modern rock station here at the Fox, and we play a lot of Seattle bands like Nirvana, like Soundgarden, like Alice in Chains," Garcia said.
"They're not going to be heard on the Fox. And even other stuff, bands that, you know, kind of have a connection to Seattle. They're not getting played either."
While the musical prank has only been in place for a day, Garcia said listeners have generally been on board with a little playoff push and shove.
"It's been very positive. People are on board, if they know what's going on – if they know the Whitecaps are playing the Seattle Sounders everyone is rallying behind it, 'We like what you're doing, you're supporting the soccer team.'"
Garcia said so far there hasn't been any kind of pushback from CFOX's Seattle radio counterparts.
READ MORE HERE AT THE GLOBAL NEWS WEBSITE