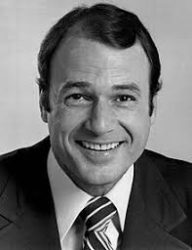 Photo of actor Jack Bannon in 1977. (CBS Television)
Published Friday, October 27, 2017 
.
NEW YORK — Jack Bannon, who played the genial and raffish assistant city editor Art Donovan on "Lou Grant," has died. His stepdaughter, Molly Allen, says Bannon died Wednesday in Coeur d'Alene, Idaho, where he had lived since the mid-1990s. He was 77.
Bannon was a regular on the acclaimed newspaper drama, which starred Ed Asner in the title role and aired on CBS from 1977 to 1982.
The crusading journalists of the fictional Los Angeles Tribune were mostly high-spirited and sometimes volatile. But Art Donovan stood out as a calming, fastidious presence (as displayed in the opening titles as he carefully arranges his suit jacket on a hanger which he hooks on the coat stand).
Before "Lou Grant," Bannon appeared in such series as "Here's Lucy," "Daniel Boone," "Mannix," "Kojak" and "The Rockford Files."
.
He later co-starred on the short-lived 1983 ABC medical drama "Trauma Center."
Both Bannon's parents were actors. His mother, Bea Benaderet, was a regular on "The Beverly Hillbillies," which she left to star in another long-running sitcom, "Petticoat Junction." His father, Jim Bannon, played the cowboy Red Ryder in several films.
READ MORE NEWS  HERE  AT THE CTV NEWS WEB PAGE