by Marty Forbes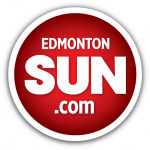 October 2, 2017
Next week the Edmonton Broadcasters Club salutes a giant in journalism, both in stature and reputation. His Edmonton Sun bio speaks volumes.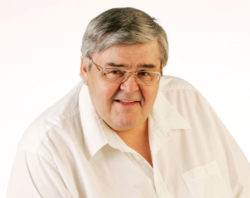 .
Terry Jones has been a sports columnist at the Edmonton Sun since 1982 and has been writing sports in Edmonton since 1967. Jones has covered more Olympics than any other Canadian journalist (16), well over 500 Stanley Cup playoffs games, 37 Grey Cups, 20 Super Bowls and Briers, and every Canada Cup/World Cup hockey tournament dating back to 1976. He's written a dozen books including the first and last books of Wayne Gretzky's career (The Great Gretzky and An Oiler Forever).
.
.
He also wrote '79 to 99′ published by The Sun. Add in an epic Edmonton Esks book as Esks President Len Rhodes tells us: "My first encounter with Terry was when I worked at CCM Hockey.  We held a press conference to launch the Jamie Sale and David Pelletier recreational skate line after their gold medal win at the 2002 Olympics.  Little did I know at that time that I would end up living in Edmonton 
nine years later
.  Terry is a great promoter of this city and understands how sports can be a key driver for community pride.  I personally chose Terry to write Epic Legacies last year, a book that celebrates the illustrious historic journey of the Edmonton Eskimos. "
 .
Dave Jamieson TSN 1260 host continues: "I've broken bread and shared a glass, or two with Terry on more than a few occasions. Golf's restaurant in Regina was a favorite haunt. It was there that I witnessed impressive appetite for both great conversation and Baked Alaska.
 .
The best journalists hate to be beaten on a story and I felt Terry's wrath early one morning in Montreal. The previous night Ricky Ray had showed up for our game against the Alouettes. He was playing for the New York Jets at the time and it was the first time anyone had seen him since the "03 Grey Cup parade in Edmonton.  The Journal's Vicki Hall happened to be in the dressing room and interviewed Ricky.  Terry was upstairs filing his story and missed scrum.   A 
2:30am
 voice mail from T.J. is rarely a good thing, Terry Jones was, and still is, tough but fair. The Edmonton sports community has been better for his presence."
 .
Bob Stauffer, Oilers Now host chimes in: "Terry has always been a great Champion of Edmonton and Northern Alberta and has covered the respective teams in the market with tremendous passion" He is also has had the ability to write to this market"
 .
Gregg Pilling, media legend (his words) had some fun times with 'Large.' "In the days of Oilers Hockey moving briefly to CFCW, Whitey & Jonesy were doing "Sportstalk" on CFRN. Every 
Friday
, like clockwork, they were welcomed into The Jock's Trap (The name of my basement bar) for much-cherished extended hours of frivolity & foolishness. We solved numerous sporting world issues, sprinkled liberally with an endless stream of laughter."
 .
High profile sports guy/comedian Jim Jerome carries on, "My favourite TJ moment was one year in the  Spirit of Edmonton room at the Grey Cup ..he usually ended his work day by popping around for a libation or 2 before calling it a night . he pulled me aside and said.." JJ I need a favour ….of course Terry ! Name it ?  "I wanna meet Klondike Kate "
 .
So the following  night before I intro'd KK and the Goldrush dancers ..I asked her while she was up doing her thing to go over and say hi to TJ. I'm back stage and the next thing I hear is Terry belting out a roaring rendition of Those Were The Days My Friends .  I don't know what else to say about that ….but (expletive) mean did I laugh.
 .
Terry will be interviewed at the Broadcasters lunch by his former Sportstalk host, circa 1993, Gord Whitehead where they will chronicle Terry's five decade career in media. The two hosted the show on 1260 and to this day both say it was the highlilght of their careers…working with the other guy.
 .
It should be an epic luncheon as many of the Edmonton media and sports fraternity will be on hand to honour this fine gentleman for an incredible Hall of Fame career.
 .
We are hoping that 'stories that happen on the road…don't necessarily stay on the road!'
 .
Just kidding Ter. Your secrets are safe with us…honest!
 .
The Edmonton Broadcasters Club luncheon goes 
Wednesday, Oct 11th
 at the Sawmill Banquet Club, and tickets are on sale on
EdmontonBroadcasters.com
.
 .
Original Publication in the Edmonton Sun
HERE