by Crash Davis on September 26, 2017, 01:09pm. PDT Posted on the KiSS 103.1 website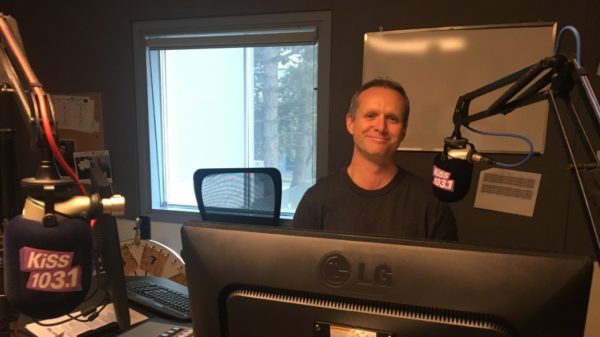 After 22 years in radio, I'm starting a new chapter in my working life, and leaving KiSS 103.1.
Dear Faithful and/or Passive Listener,
It is with a crapload of different emotions that I am letting you know that this will be my final week on-air at KiSS 103.1. After 22 amazing years with Rogers Media, I have decided that the time has come to close this chapter of my life and start a new one. This Friday, September 29th, will be my final show.
Radio has been such a massive part of my life, and whether I was a community cruiser for Oldies 900, Sports announcer for AM900, morning show co-host on Hot 103 & JACKFM, or drive announcer and Program Director of KiSS 103.1, it's never really been about the music or content. Instead the main source of joy has always been the people: my amazing co-workers current and past, the great clients and community partners I've had the chance to work with and support, and last but definitely not least, you. Some listeners I have literally been talking to for two decades! That anyone actually gave a crap about what I had to say in that span is amazing to me, but if you gave me even five collective minutes of your attention during your extremely busy life, I am truly grateful. If I made you laugh, or roll your eyes, or provided even the slightest escape from your worries, then I feel as though I succeeded.
I have to thank Rogers Media, and the many managers I've had along the way that believed in me, and given me the opportunity to call this a career. This radio business is a crazy unpredictable beast, and to be able to walk through the same door at 817 Fort Street every working day since late 1995 has been a remarkable blessing.
One of the things I feel radio has always struggled with is the end of the announcer/listener relationship. Most of the time announcers are on your radio one day, and gone the next like they've been abducted by aliens. There are many valid reasons for this, depending on the situation, but none of them really honor or take into account that you as a listener have developed a relationship and bond, which is just ripped away. It sucks, right? Well, I'm grateful that I get to leave on my own terms, with the opportunity to say goodbye in a way that respects the relationship we have built.
This is not a decision I have made lightly, and while I'm pretty sure my daughters are a little bummed that "dad with cool radio job" is being replaced by "dad with Government Public Affairs job", my family is excited to get more of me. And that, as I'm sure you will agree, is the most important thing.
With that, it's time to say goodbye. From the bottom of my heart, thank you for allowing me into your life. It really has been my pleasure.
Crash    (Jamie Weiss)