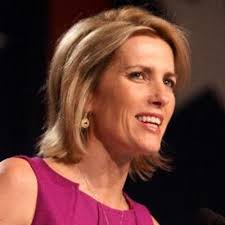 Multiple sources are reporting that Sean Hannity is moving from 10 pm ET to 9 on Fox News Channel, and new hire Laura Ingraham (pictured above) will replace him at 10.  This will put Hannity in direct head-to-head oompetition with MSNBC's top-rated talker Rachel Maddow.  Tucker Carlson will continue in the old Bill O'Reilly slot at 8 pm ET.
With Eric Bolling definitely out following an internal investigation, the multi-host feature The Five will move back to its original slot at 5 pm where it had such great initial success.
When the changes will take effect is as yet unclear.  But the new lineup is widely known .. and confirmed … by senior FNC staffers.