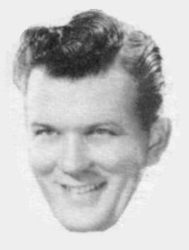 Very sorry to hear from Gord Lansdell that former Vancouver and Okanagan broadcaster Cal George has died at age 96. 
He started his career at CHWK Chilliwack in 1942, moving to CKWX Vancouver the same year, first as an operator and then announcer.  He stayed a full quarter century, until 1967, much of the time hosting middays.  George moved to CKOK Penticton that year, where he was on-air until retirement in 1985. 
At the time, he was one of British Columbia's best known and respected radio voices, and a mentor of mine as I got started in broadcasting.  He is remembered for co-hosting the Neighbour Nina homemakers show with Nina Anthony, for hosting the wildly popular Casino giveaway show which offered huge (by the standards of the day) cash prizes, for hosting the Red White and Blue call-out phone quiz every weekday afternoon, and announcing and hosting several prime time entertainment shows from the stage of Vancouver's Vogue, Capitol and Orpheum Theatres. 
I've worked with no one for whom I have more admiration than Cal George.  I'm pleased to have been able to speak with him on the telephone a few years ago.  He sounded his usual bright and sunny self, though he had just lost Bernie, his wife of many years, a few months earlier. 
Rest in peace old friend.  Although I knew this day would eventually come your loss is still a shock.  You will always remain at the top of my list.