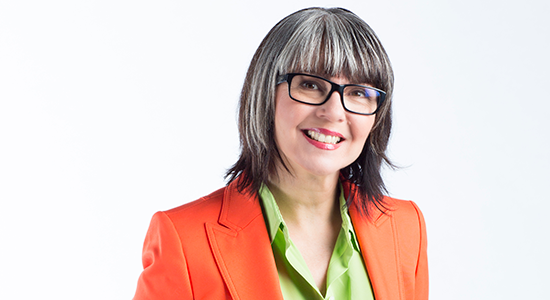 "It's a very hard transition for people to make, from daytime to nighttime. It's a sort of retreat back into yourself."
Laurie Brown would know. As host of CBC Radio 2's dreamy late-night music show The Signal, she has been helping listeners make that transition for the past decade, telling stories and playing songs that drift through the Canadian ether from 10 to midnight, six nights a week, seeping into that grey area between go-go-go and time to go to sleep.
Ironically, she has been doing so from the other side of the day's dividing line. Just past noon on a recent Thursday, Brown was calling from her desk at CBC's Toronto headquarters, where she was following her regular routine.
"I'll go into the studio around 1 o'clock and roll out another couple of shows before this long weekend," she said. "I'll dim the lights, make it feel like 10 p.m., when in fact my day starts at about 8 in the morning. I listen to all the music at home, I think about it and then come in here and blab."
She was playing it pretty cool for a woman who's coming to the end of the line. Brown will be hanging up her microphone on Sept. 2, and moving on toward new horizons.
It's the end of an era, for the veteran media personality and her legions of loyal fans who turn to their radio each night seeking solace in her soothing voice, thoughtful anecdotes and the transportive music she plays, which come courtesy of The Signal's longtime producer and musical selector Andy Sheppard.
.
"I didn't know him before," Brown said. "I came to Radio 2 and said, 'I want to do a radio show. Put me together with a person here who you really want to see create a new show.' They introduced me to Andy Sheppard, we had a brief chat, then we started to trade pieces of music. From the beginning, it was non-verbal."
The most important consideration for both, she recounts, was the time slot.
"That governed just about everything that we brought to the table; it has to feel like late at night."
Music is the great unifier at The Signal, bringing together listeners of all stripes, all ages, from all walks of life and all corners of the country. Decidedly contemporary and borderline hip, yet never alienatingly so, the show's playlists feature a wide range of sounds.
The musical menu in recent weeks has included songs by British post-soul singer Sampha, Toronto indie-rockers Broken Social Scene, Montreal DJ Kid Koala featuring Icelandic vocalist Emiliana Torrini, Congolese-Canadian musician Pierre Kwenders, French rap poet Stromae, French-Cuban twin-sister duo Ibeyi, the Tragically Hip's Gord Downie, American alt-folkie Sufjan Stevens and Danish techno producer Trentemøller.
READ MORE ABOUT 'The Signal'  HERE  AT THE MONTREAL GAZETTE WEBSITE